Looking for ACT practice? You've come to the right place! We not only present to you Magoosh's own full-length free ACT Practice Test PDF, but we also show you where you can get other high-quality practice tests.
Free ACT Practice Test With Answers and Explanations
Magoosh's full-length ACT sample test has been perfected over the years by Magoosh's ACT experts, who have combined decades of experience teaching the ACT exam. Practice tests are an essential part of ACT prep, so this is a great place to start.
To access our practice test PDF (featuring all ACT sections, including the optional essay, as well as the answers and explanations at the end), just enter your email:
Examples by Section From the Free ACT Practice Test
Sample ACT English practice question:
This question comes from page 3 of the Magoosh PDF.
Sample ACT Math questions:
The two questions above come from page 15 of the Magoosh PDF.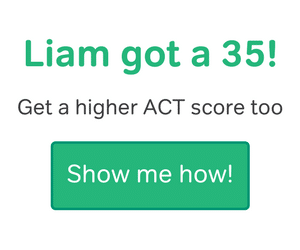 Sample ACT Math questions:
The two questions above come from page 15 of the Magoosh PDF.
Sample ACT Reading question:
For the full passage associated with this question, see pages 24 and 25 of the Magoosh PDF.
Sample ACT Science question:
The table and question above come from pages 38 and 39 of the Magoosh PDF.
Where to Find Additional ACT Practice Exams and Practice Content
So you should be taking a practice test a week—but what happens if you're studying for more than seven weeks? There are tons of other places you can look to find great sample tests and other content! For example:
Free Official ACT Practice Exams
Once you've done the Magoosh test, I strongly recommend doing some additional practice ACTs, starting with the official ACT practice tests. These tests are the real deal because they were used in previous ACT administrations. There is one currently available on the ACT website: the 2022-2023 Practice Test (PDF).
Every year, the ACT features a different test on their website, but they cycle through the same tests: the above test and additional practice tests that were also used in a real ACT administration.
Within the PDF, you'll find the answer key for that test at the very end. That will help you figure out your ACT scores: the composite score (overall score), as well as your sectional scores.
Additional Resources from Magoosh
Magoosh ACT is another great way to get test-like practice with full-length practice tests before the official exam. The 1300+ questions mean that you can take 4 full-length practice tests—and still have questions for quizzes and practice. You can also choose between a live cohorted class with an instructor (which includes all our lessons and practice questions) or access to the self-study option by itself.
You can also get an extra test and lots of other practice by purchasing the Magoosh ACT book.
Official Prep Guides from the ACT Test Maker
The Official ACT Prep Guide 2021-2022 offers six practice tests. You can find other tests in The Official ACT Prep Guide 2016-2017, or Real ACT Prep Guide, 3rd Edition.
Be warned—many of the practice tests in those books are exactly the same as the online ones linked above. The official ACT materials also do not contain the in-depth text and video explanations that Magoosh offers for its own questions, but they are still excellent sources of practice.
How to Use This Practice Test
Once you're ready to take an ACT practice test, where do you start? Here are our best ACT tips for the method you should use for the best results!
Begin with a diagnostic exam. This is so crucial to understanding the exam you'll be taking, getting perspective on your strengths and weaknesses, and figuring out where your score is compared to where you want it to be (though don't try to use it to make any score predictions—yet!).
Set your ACT score goal.
Spread the remaining tests out over your study schedule and work hard to reach that score goal. Depending on how long you're studying, you should be taking at least an exam every month—but every week or every two weeks is better.

If possible, take your tests on Saturday mornings, because that's when ACT test dates are.
Try to emulate test day conditions as much as possible. Take the test respecting time limits, without interruptions.
Find a quiet spot where you can practice.
Use an authorized calculator, No. 2 pencils, and bubble sheet for answers

Use an error log to review your answers. This can be as simple as tracking your mistakes in a notebook. By understanding and tracking your errors, you'll be better prepared to face those question types and concepts the next time you see them!
A Note About Finding High-Quality Free Resources
If you've finished this ACT practice test with answers and explanations and you're looking for more free ACT practice resources, you can check out our post on the best online ACT prep. As you continue your search for as many practice tests as you need, the most important thing to do before spending hours taking a practice test you find on the internet is to make sure they come from a reputable source.
There are a lot of terrible ACT prep resources out there—most of them are free, but a good number also cost money. Read reviews from external resources and for the resources that cost money, take free trials if you can to see if they match the quality of the resources featured in this post. You may be tempted to use the free ones, thinking all prep must be good prep, but it'll help you so much more on test day if you practice with resources that match the ACT as closely as possible.
If money is an issue, there are also ways to get the above resources for free—you can check your library for the ACT prep books or see if your school can purchase Magoosh accounts on behalf of their students. Finally, you can also find additional resources on the Magoosh blog. For example, this ACT math practice!
We also have a free SAT practice test you can try as well. You can also do an ACT to SAT score conversion if you want to take both and see which you do better on!
However you decide to get your practice in, we hope this blog has been helpful for you!