Whether you're giving yourself a week, a month, or a year to prep for the ACT exam, it always helps to add some structure to your ACT study plan. Using a study schedule can help you stay motivated and hold you accountable, even on days when you'd rather not study for the ACT (yes, you'll probably have many days like this, but that doesn't mean you can't get a great ACT score!).
With this in mind, we created some ACT study plans to help you ace your prep! For more information about the ACT, check out our complete guide to the ACT! And, remember that no matter which ACT schedule you stick to, taking free ACT practice tests should be part of your prep!
Happy Studying, Magooshers! 🙂

Why it's Important to Use a Study Plan While Studying for the ACT
First thing's first: you need to study for the ACT. Could you, in theory, take the ACT without studying? Of course, but if you're aiming for a specific or competitive score (and especially if you only want to sit for the test once), you'll want to study.
But studying for the ACT can feel overwhelming if you don't know where to start? Which concepts should you spend the most time on? How long should you study for each section? How can you make sure you've covered everything you need to know?
This is where an ACT study plan comes in!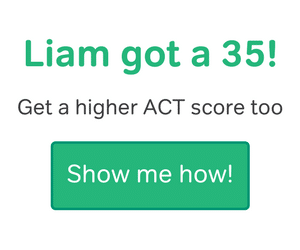 Study plans are useful for:
Breaking down a large amount of content into manageable chunks that are easier to study
Staying on task with ACT prep
Avoiding overwhelm and "cramming"
Ensuring that you cover key concepts that will be on the test
Helping you retain the material, not just memorize it
Familiarizing yourself with the type of questions you'll be asked on test day
A study plan is like having a road map (or maybe more accurately, a GPS navigation system) for getting to your destination. You can get there without it, but the journey will be much more smooth and efficient with one!
3 Most Popular Magoosh ACT Study Plans
One-Month Study Schedules
Can you really prep thoroughly enough for the ACT in just one month? The short answer is yes!
Our standard One-Month Daily Schedule is best for students who are ready to be pretty diligent over the next 30 days or so. Are you worried about getting overwhelmed with studying and want lots of specific help? This study guide will give you a step-by-step plan with daily instructions to improve your ACT score and keep you focused and motivated!
Have you been too busy lately to put in the time for ACT prep? If you can devote just 20 minutes a day of studying for five consecutive days, our ACT Streaks schedule might be right for you! This one-month schedule is designed to help you study in short, repeated bursts, rather than long, extended hours.
Two-Month Study Schedules
Our Two-Month Study Schedule will give you specific, daily instructions to follow over the next two months. The focus will be getting your ACT practice up to speed slowly and building up your skills. This study guide is perfect for those who want to take their time studying for the ACT and start with the basics.
Three-Month Study Schedules
You've made time over the next 90 days, but you don't want to waste it navigating endless ACT material. Our three-month study guide will provide a clear path forward for you. Good job thinking ahead and getting started now! Life does tend to throw unexpected stuff at us, so taking three months to study leaves room for breaks and allows the material to sink in better.
Cramming for the ACT? Try our One Week Plan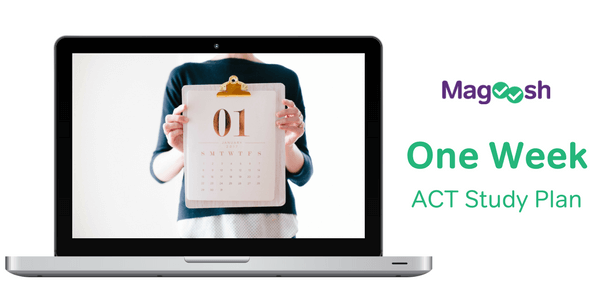 If you're cramming for the ACT test, you should try this abbreviated one-week study plan. This study schedule comes with three options to choose from:
1 Week ACT Study Schedule for Newbies
1 Week ACT Study Schedule for Quick ACT Score Improvement
1 Week ACT Study Schedule for a Last-Minute ACT Refresher
BONUS: 1 Day ACT Refresher
What Do the Study Plans Include?
The plans include day-by-day steps for exactly which ACT lessons you should study, which ACT practice questions to try, and when it's time to take a practice test. All of this preparation will help make sure you're ready to take the real ACT!
The plans also include recommended materials (such as our free ACT Practice Test) as well as steps for each stage of your prep. We also have tips for making the most of your ACT study schedule.
Please note that all of our Study Schedules require Magoosh ACT Prep. If you have any questions about purchasing a plan, please email us at [email protected] for more information! There's also plenty of Free ACT prep materials out there too that you can use to supplement your studying, especially if you're looking for extra help on particular sections, like the English test.
And be sure to let us know if you need help adapting a study schedule to your individual needs. Just leave a comment below, and we'll do our best to help you out.

How Do I Pick The Right Study Plan?
To some extent, which ACT study plan you pick will be determined by how much time you have to study! But if you've got some time and choice in the matter, there are a few factors to consider.
First, you'll want a realistic sense of how many hours total to study for the ACT. At Magoosh, we've found after tons of research with real students, that 30 hours is the average sweet spot for substantial ACT prep.
With this in mind, ask yourself how many hours you're willing and able to study for the ACT per day or week. Perhaps a shorter, more intensive study plan makes the most sense for you. On the other hand, if you've got a packed schedule with less time to study daily or weekly, you'll want a study plan that spans a longer amount of time.
Also, when you're determining how many hours a day or week to study, remember to avoid burnout. You will have to juggle ACT prep on top of other homework, extracurricular activities, and so on. Everyone's target number will be a little different, but make sure to choose a schedule that works for you!
If possible, we recommend using the 3-month study plan to allow yourself a good amount of wiggle room (life curve balls happen!) while also keeping the material fresh in your mind for testing day. Also be encouraged to check out these ACT study strategies for a busy schedule!
Popular Resources