Here you will find a clear and comprehensive look at the best ACT prep books. We grade each book on its strategy advice (does it provides good recommendations for approaching ACT test questions?), the quality of its practice questions and tests (how close are they to the actual ACT?), and its style (is it readable and, dare we say, enjoyable)?
Let's start out with a quick overview of the books and their quality before getting into greater detail with in-depth reviews below.

*List prices given at time of publication and subject to change
Best ACT Prep Books of 2021: Book Reviews
Below you'll find even more information on the best ACT prep books we recommend for students as well as links to all of our ACT book reviews.
Disclaimer: every book has pros or cons; make sure you pay close attention to what is important to you in a prep book!
ACT Prep by Magoosh
Everything you need to know about the ACT, straight from Magoosh's experts.
It feels a bit awkward to promote our own book here, but the truth is that we made it because we realized that there wasn't a great book out there that was up-to-date and comprehensive. Our experts poured all of their knowledge about the ACT into this book and have made it available in ACT Prep by Magoosh.
There's a ton of really important stuff in here, including 300+ practice questions, lessons in all ACT areas, great advice on how to approach each and every section of the exam, an in-depth study schedule…and a full-length practice test to help you gauge your progress! Basically, everything you need to start your ACT prep is right here. (So, knowing all that, how could I not promote it?!)
The Official ACT Prep Guide, 2021-2022
The tests in the Official ACT Prep Guide are real former ACT tests. And there is no better way to hone your ACT skills than using actual questions crafted by the writers of the test.
The main differences between the 2020 and 2021 versions is the addition of a diagnostic exam at the end of chapter three. Other than that the other 5 tests are almost identical to the 5 exams in the 2020 edition. The only other difference is that the 2021 version comes with access to 400 flash cards online.
Check out our full Official ACT Prep Guide review. (If you're looking for reviews of earlier editions, you can find them here!)
ACT Prep Black Book, 2nd Edition
This is a bare-bones publishing job, but its information is pretty awesome. In addition to providing general strategy advice, the ACT Prep Black Book walks students through many of the questions in the ACT "Red Book" (The Real ACT Prep Guide) and explains how to strategically answer them.
Yes, the Red Book gives you answer explanations, but the Black Book gives you strategic advice on how to answer them: which questions should be back-solved using the answer choices, for example, or how to use the English section answer choices to find the right answer without needing to understand the grammar. It's a pretty great resource for learning how to get inside the heads of the test-makers.
Check out our full review of the previous edition ACT Prep Black Book.
Barron's ACT, 4th Edition (2019)
As Kristin mentioned in her review of the first edition of Barron's ACT, this book is one of the more useful unofficial ACT guides on the market. But was Barron's able to maintain this quality and build on it in Barron's ACT, 4th Edition? To some extent, the answer is yes.
Quality of the Practice Questions
As in previous editions, Barron's does a good job of capturing the basic format and "flavor" of real ACT practice materials. But once more, most of the practice questions are easier than the real test. The ACT Writing prompts are top-notice, and there are multiple score sample essays for each question. The ACT English questions are a little too easy on average and largely unchanged from past editions. ACT Reading questions are mostly the same and a little bit too easy. ACT Math has too few data interpretation questions, though there are questions with figures which will give you some practice. Finally, ACT Science in this edition, two of the three science sections have six passages and the third has seven. This ratio of six passages and 40 questions is a better reflection of the current ACT. In fact, on the new ACT, you will pretty much always see six passages instead of seven.
Answer Explanations, Strategies and Skills
The start of the book gives a thorough account of what the ACT is and what it contains. The sections of strategy advice for ACT English, Math, Reading, and Science are near-identical to the material in the previous version, all of which was excellent. Still, this lack of change makes the new Barron's ACT book a not-so-appealing option if you already have the last edition. The ACT Writing portion of the book is fully updated. This completely new content is really amazing, and it includes some extra practice questions and sample responses, with scorer commentary. The answer explanations are well-written and complete, just as they were in the last book.
Grade
Practice material: B+
Answer Explanations, Strategies, and Skills: B+
Ivy Global ACT Guide, Edition 1.2
Ivy Global is a less well-known name for test prep, but they continue to produce high-quality practice materials that are worth your attention. While they're more commonly known in the realm of SAT prep, they came out with an ACT guide in 2019 that is very good. They also released an updated ACT Guide in 2020 but it is nearly the same as the 2019 version with only a few minor edits.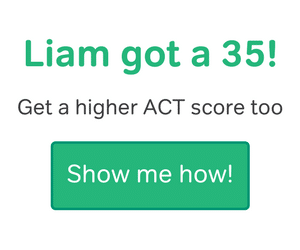 Ivy Global's style is minimal and no-nonsense. It is a real breath of fresh air after other test prep books with a more cluttered and energetic style or format 🙂 They offer a clear and concise introduction to the test and test taking strategies that are easy to understand. Their section-specific review is great. Not exactly enough to teach you a topic you've never seen before, but definitely enough to help you refresh or fill in any gaps. Thankfully, they use lots of ACT-style questions and examples to help teach the concepts, rather than just rushing through a review.
The book offers three practice tests, and these are a good representation of the topics and difficulty on the real test. There are also free practice tests available to anyone on the Ivy Global site. It's important to note that full answer explanations are available on the site only, which isn't a huge deal, but does add an extra step. They offer a test only book with four full practice tests but the first three tests are the same tests from their ACT guide book.
Grade
Practice material: A-
Manhattan 5 lb. Book of ACT Practice Problems
The Manhattan 5 lb. Book of ACT Practice Problems may be the best unofficial ACT practice book, and it's a great companion to the Official ACT Guide and official ACT website. Still, this book does have some weaknesses alongside its many strengths.
Quality of the Practice Questions
Manhattan's ACT Math questions are excellent. They are 100% consistent with ones you'll see on the real SAT, and follow the same format and difficulty. The ACT Reading and English are definitely ACT-like, but the sections as a whole are a little easier than the real thing. That's because the real ACT will test you on more than one skill on each question, such as knowledge of vocabulary and literary devices. Manhattan has a little too many one-skill prompts, which makes the sections easier on average. ACT Science is also a little easier than it should be.
There are two other small issues. First, Manhattan uses "EXCEPT questions," where you need to identify the one idea that is not in the passage. This is common in ACT Reading but not in ACT Science. Second, there are some pre-algebra math operations that wouldn't occur outside of ACT Math. You'll still get good practice, but just keep in mind that it's not as accurate to the test as the other sections.
Answer Explanations, Strategies and Skill
Each answer explanation really acts as a mini-lesson on academic content, and this allows you to walk away with knowledge that's applicable to other similar ACT questions. As an added bonus, questions in this book are organized by subject. That way, you can focus your practice on the question types you find most challenging.
There is a potential shortcoming, though. Unlike the current official ACT Guide, Manhattan's explanations don't directly address incorrect answers. You aren't really given any insight into how incorrect answers are designed to trick you.
Grade
Practice material: A+ for Math, B- for English and Reading, C for Science
Answer explanations, strategies and skills: B
Barron's ACT 36, 4th Edition
Barron's offers a smaller, more targeted book called ACT 36. The 4th edition is similar to previous editions, so I would direct anyone interested to Kristin's review of ACT 36, 2nd Edition.
Barron's 36 has always been unusually short by test prep standards. This book is designed as a short introductory course for the ACT. Key ideas and small sets of practice questions are much more clearly marked than before. Certain content has been slightly re-ordered so that the organization of each chapter is more logical. And most of the answer explanations have been edited to be more short and to-the-point.
In its 4th edition, Barron's ACT remains a very basic book. The book makes for a good introductory warm-up before you move on to longer, more advanced prep books. I may recommend this as a source for students hoping to break into the 30s because they can still practice problem solving strategies and time and stress management. They'll just need to make sure that they use other sources of questions as well to make sure that they give themselves time to get used to the full range of difficulty. For all sections, the explanations have a good level of detail, which many test prep books do not have.
Grade
Practice material: B-
Answer explanations, strategies and skills: B-
McGraw-Hill ACT 2021
Past reviews have observed that the 2018 book was better than the 2014 version of their book, 10 ACT Practice Tests, though it still had flaws. The 2021 edition is a little bit better, but like its predecessors, isn't perfect. The 2021 edition includes a short section about the new updates to the ACT test. These updates include the shift to online exams, the retakes of individual sections and the new superscoring policy. The new edition retains the updated explanations from the 2020 version but is otherwise almost a page for page copy of the 2020 edition.
Practice Materials
McGraw-Hill's ACT 2021 offers four print practice tests and access to four more practice tests online. There's also a diagnostic test at the beginning of the book, and a set of additional practice questions for every section.
So you get a lot of ACT practice with this book, but is that practice good? ACT English in the 2021 edition is better than in past editions. The questions are a little on the easy side, but overall are the right length and contain the right mix of topics. ACT Math is similar. It's a little too easy but will help you learn the topics. Not all of the ACT Reading passages are the correct length, and the difficulty is too high. ACT Science is excellent, as it was in past editions. This is the closest you can get to the real thing in a third-party ACT prep book. Finally, the ACT Writing is good, but not great. The essay prompts are good, but the opinions are too long. Just something to keep in mind if you use ACT Writing practice from this book.
Answer Explanations
In the past we called out McGraw-Hill's answer explanations for being too short and unhelpful. Some are still that way, but the explanation quality is also a little better. More explanations go into detail, which is a step in the right direction, but we'd still like them to be clearer.
Skills and Strategy
The Good
McGraw-Hill has some really nice skills building practice materials for English, Math, Reading, and Science. There's some basic advice throughout their chapters on skills and strategy too, but certain strategies are not going to work for everyone, such as speed reading, or are too obvious to be of much help ("Listen to your brain"?!). However, McGraw-Hill has especially good advice for pacing and multiple-choice strategy.
The Bad
Sometimes the activities are too short, and equal attention is not given to each section and skill. The chapter on ACT Science prep is shorter than the other chapters. And there's too much focus on easier ACT math skills like elementary algebra. Harder aspects of ACT Math, such as logarithms and trigonometry, are barely explained—and when the Math chapter is about three times as long as any of the other chapters, you'd definitely expect more thorough coverage! The Writing chapter is better than it's been in previous editions, but is still a little light. Overall, the "advice" portions of this book are written in a confusing, inconsistent way.
ACT 2021 (McGraw-Hill Education): Grade
Practice materials (ACT Science): A
Practice materials (everything else): C+
Answer Explanations: C
Skills and Strategy: C
McGraw-Hill 10 ACT Practice Tests, 6th Edition
There are some things I really like about McGraw-Hill's 10 ACT Practice Tests, 6th Edition. But there's also a lot to dislike. McGraw-Hill's ability to replicate truly ACT-like practice varies a good deal, depending on the section of the exam you're dealing with. And their answer explanations leave much to be desired. It is worth mentioning that the 6th edition is the same as the fifth edition aside from a few reworded explanations.
Quality of the Practice Material
The ACT English passages are too long, so they're harder to complete in the time limit. The wrong answers are a little too ambiguous, which can make the questions harder in a confusing way, rather than harder in terms of harder material. Also, grammar questions are over-represented in this book, so you don't get as much practice with other question types. The ACT Reading sections are too short, and are a little harder to understand than those on the real test. The ACT Math questions are a little too easy, and favor Pre-Algebra and elementary Algebra more than on the real test. The ACT Science questions are very good. Finally, the ACT Writing is much better than it was in past editions.
Quality of the Answer Explanations
Here, McGraw-Hill falls really flat with their 10 practice tests. The answer explanations are maddeningly inconsistent and unhelpful. Some answer explanations simply say something like "Answer X is correct because it's the only answer that makes sense." Not useful!
Other answer explanations give a little bit of extra information on why an answer is correct, but they usually just reference a concept, without really explaining it. For example, an answer explanation might say "This answer is correct because it follows the rules for quadratics." But what does that actually mean? Moreover, at least half the time, the incorrect answers aren't addressed at all.
Grade
ACT English and ACT Reading Practice: C
ACT Math Practice: B-
ACT Science Practice: A
Answer Explanations: D-
Princeton Review
Princeton Review has many offerings for the ACT. Here, we are going to give our review of Princeton Review's materials in general, and then dive into the specific differences between their main books to help you decide which, if any, will help you in your prep. You may notice that Princeton Review has even more offerings than we review here, but we've decided to focus on these because they are both the most popular and fairly representative of the question style and approach in other books.
ACT Premium Prep, 2021
We'll start with ACT Premium Prep, something of a flagship for PR's ACT Prep. It's pretty similar to previous versions, so if you happen to have an older version, we would not recommend buying the updated edition. Also, the difference between Premium and regular is that Premium has 8 practice tests whereas regular has 6.
The ACT Reading advice is pretty good, although the text is heavily stamped with Princeton Review's branding in the form of specialized terms and acronyms. (The awful acronym POOD is back with a vengeance!) The passage itself thankfully has no Princeton Review buzzwords, and is comparable enough to a real ACT test.
But—just like previous years' editions—the added ACT Reading practice questions themselves are abysmally not ACT-like. Most of the new dual passage questions are far too easy, and the "hard" questions are only hard because the answer choices are ambiguous. Supposedly "wrong" answers could be right. On the real ACT, there are no "gray area" possibly right answers like this.
There are a few other flaws in the ACT Writing advice. The sample ACT Writing prompts are slightly more complicated than real ACT Writing prompts, with more complex perspectives. One good update this year is that the Princeton Review has made some steps towards covering prewriting, a step it previously ignored. The advice about the new ACT essay is good in some respects. However, once again some branding creeps in. PR gives a pretty strict template for writing the essay, specifying phrases, the structure of individual paragraphs, and the order of content. This Princeton Review method for this essay isn't bad per se. But it may not work for everyone. Lighter guidance that helps students find their own voice and style would be more helpful.
Grade
Practice material: C
Answer explanations, Strategies and Skills: B-
Crash Course for the ACT 6th Edition
The Crash Course for the ACT is a shorter offering from PR that focuses on strategies and drills. The strategies are solid, though fairly standard for test prep in general, rather than being ACT-specific. If you are feeling rusty on standardized tests, this may be a good option for you. The questions are different from Cracking the ACT, so it can be used in combination as well as on its own. The question quality is decent, but not the best, just like with other PR books.
Bottom line: a source of additional practice questions as well as general test prep tips that can be helpful to those who aren't getting those tips from another source.
Grade
Practice material: C
Answer explanations, Strategies and Skills: B-
Princeton Review 1,523 ACT Practice Questions 2021
Princeton Review's 1,523 ACT Practice Questions has topic-specific mini drills that would be a useful resource for students who want to focus on one topic at a time. The practice questions aren't repeated from other books, which is good to know 🙂 The book has three full-length practice tests and gives you access to PR's online content. The new edition has the same questions as the previous edition with the exception of 12 new questions. Like the others, good, not great.
Grade
Practice material: C
Answer explanations, Strategies and Skills: B-
Kaplan's ACT Prep Plus 2021
Just like the 2018 edition, the best part of Kaplan's ACT Prep Plus 2021 book is its structure. It lays out ACT content, question types, skills, and strategies in a complete and straightforward way. By the end of it, you'll have a very good idea of what the ACT is all about.
This isn't to say that Kaplan ACT is perfect. There are strong points and weak points within the book's largely-good framework. Note: the "Plus" edition gets you two extra practice tests compared with the regular ACT Prep.
Answer Explanations, Strategies, and Skills
The answer explanations in Kaplan's ACT Prep Plus 2021 are refreshing in many ways. Unlike many ACT books, this book explains both the right answers and the wrong answers! Knowing why the wrong answers are wrong–and how the makers of the ACT are trying to distract you—is a really important aspect of test strategy.
The explanations are longer and of higher quality than explanations in previous editions, which is another point in Kaplan's favor.
The strategy and skill portions of the book definitely don't have a problem with incompleteness. Here, you get in-depth descriptions of all of the different kinds of questions in each section. There's also a thorough overview of the major grammar rules and math principles on the exam. Similarly, the book gives a very complete explanation of content and strategy in ACT Reading and ACT Science.
Still, Kaplan—much like its competitor the Princeton Review—sometimes lets its branding and sales tactics get in the way of its advice.
Unfortunately, this edition still includes the SmartPoint system. Kaplan's SmartPoints system lists each question type in every section as a "SmartPoint." These SmartPoint labels can be confusing and inconsistent. Some SmartPoints are said to be related to other SmartPoints, but the connections are vague at best. Similarly, the "Kaplan Method" for each section tends to be fairly obvious. However, the Kaplan Method for ACT Writing does one thing that's pretty awesome–it shows students how to brainstorm and write an outline. This is refreshing, since many ACT prep books don't cover prewriting sufficiently. Regrettably, however, Kaplan again applies a flawed, time consuming method. The Kaplan Method for putting together an ACT essay includes a prescriptive, highly detailed outline structure that students will have trouble following within the test time limits.
Finally, the practice materials all have pretty obvious flaws. Here's a quick rundown, section by section. The ACT English and Reading questions are easier than the real thing. Some are way too hard because of ambiguous answer choices, where multiple answers could have been right. Real ACT questions won't necessarily be easy, but you should be able to narrow down the choices to one. Questions on the ACT Math and Science are a little easier than the real thing. As for ACT Writing, Kaplan's corrected some of the over-detailed prompts that plagued previous versions of this (um, "Kaplan ACT") books. These are a lot more solid than they were in previous editions.
Grade
Practice materials: C-
Answer explanations, strategies, and skills: B
The Best ACT Prep Books That Won't Cost You Anything!
Magoosh's FREE ACT eBook


That's right! Magoosh has a free ACT eBook!
What will you find in here? Strategies for the exam, practice questions, detailed explanations for those practice questions, explanations of the ACT format and details of all question types.
It's written by Magoosh's test experts, meaning that it's not dense or dry like some books. Even better, it's available in a handy PDF so you can study on the go.
Magoosh's SAT Math Formula eBook
(This eBook was written for the SAT, but is equally crucial for the ACT.)
The math formulas you'll need on the test, plus strategies and practice problems so you can learn how to use them under pressure!
High Schooler's Guide to the Future
For this eBook, Magoosh teamed up with CollegeXpress to combine our test-prep expertise with their college admissions knowledge. This guide to getting into college provides a timeline to help you navigate the college prep process year-by-year.
Going Beyond the Best ACT Prep Books
Our best ACT prep books list grows all the time, so be sure to check back for new reviews! (Or send us a request for one!) If you're interested in adding some online practice to your ACT Prep, complete with videos and interactive tutorials, check out Magoosh ACT Prep.
Happy studying!