So you've decided to take the Praxis Core. Congratulations! But now you might be wondering, "How well do I need to do to get my certificate?"
Fortunately, the Praxis Core is a pass-fail exam. You don't need to be in the top 99th percentile to receive your certification. For the Praxis, passing scores will be all you need!
Minimum scores considered passing vary from state to state, but for the Praxis Core Academic Skills for Educators (also known as the Praxis), passing Praxis scores are generally as follows:
150 on the mathematics portion
156 on the reading portion
162 on the writing portion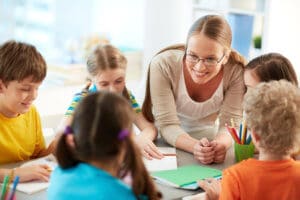 Some Exceptions for Passing Praxis Scores
The rules are a bit different if you're taking the exam in North Dakota. North Dakota test-takers can pass the Praxis Core by:
Achieving a total score of 466 and a passing score on at least 2 of the 3 sections, or
Meeting the passing Praxis scores for all 3 sections

The required Praxis passing scores for certain sections are also lower in Washington State and North Dakota:
Washington: 142 math, 158 writing
North Dakota: 160 writing

Passing scores for the Praxis Subject Assessments (formerly known as Praxis) vary quite a bit more from state to state than do those for the Core exam, so you'll definitely want to refer to your state's Praxis page to make sure you know what score you need to shoot for.
How Many Questions Do I Need to Get Right to Pass?
Unfortunately, there isn't a straightforward answer to this question. Different editions of the Praxis require different numbers of right answers to pass, since questions rated as more difficult are worth more points than easier ones.
What if I Do Really, Really Well?
Then you're in luck! The ETS does give special recognition for getting exceptionally high scores on some of the Praxis Subject Assessment tests. The ETS Recognition of Excellence (ROE) Award is given to test takers who score in the top 15 percent on the Biology, Chemistry, General Science, Physics, or Social Studies Content Knowledge exams.
Will My School District See My Actual Score?
Yes, your score will be automatically reported to your state's Department of Education if you take the test in one of the following states:
Alabama, Alaska, Arkansas, California, Colorado, Connecticut, Delaware, District of Columbia, Georgia, Hawaii, Idaho, Indiana, Iowa, Kansas, Kentucky, Louisiana, Maryland, Mississippi, Missouri, Montana, Nebraska, Nevada, New Hampshire, New Jersey, North Carolina, North Dakota, Ohio, Oklahoma, Oregon, Pennsylvania, Rhode Island, South Carolina, South Dakota, Tennessee, Utah, Vermont, Virginia, Washington, West Virginia, and Wyoming.
If you're applying to teach in a different state than the one in which you took the Praxis, or if your state isn't listed above, you will need to list your state's Department of Education as a score recipients on your registration form.