I have some very exciting news – today, we launched a new version of Magoosh GRE Prep! We've added a library of over 150 video lessons that take you through all the topics tested on the math and verbal sections of the revised GRE. (Once you feel ready to apply your knowledge to a practice test, head over to our free GRE practice test.)
Our impetus for this new launch was feedback from you, our loyal community. About a month ago, I received the following message from a user who signed up for our limited 1-week trial:
I ran across Magoosh when looking for help studying for the GRE. I started by trying the one week free trial. My math skills are so poor that I did not get one answer in the first 11 questions. Basically, I need to return to the very basics to recall an enormous amount of lost information. My question is this: Where do I begin? It's hard to believe that if I just watch the video after each wrong answer I will eventually begin to get the hang of a certain type of problem. Do you have suggestions for starting from scratch? Is there a method behind all of the problems, or is one just supposed to hope they 'catch on' after a while?
After reading this message (and several others), I realized we needed to address this issue. Our previous GRE product was great for those who had basic GRE knowledge, but not as good for those who were starting from scratch.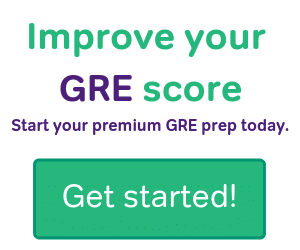 Enter video lessons.
With a critical eye, we looked at our product and thought hard about how to make it better for our users. We wanted to stay true to our clean, uncluttered user experience and keep the product accessible and convenient for everyone. Our expert GRE tutors, Brent Hanneson and Chris Lele, came up with a curriculum that could help any student conquer the revised GRE – no matter where he or she was starting. And instead of creating long lecture-like videos, we created short 2 to 10 minute videos for every topic, so students wouldn't have to sit through irrelevant material to find what they are looking for.
We received the following feedback from a few customers who received early access to our new video lessons:
Thank you for making these lessons. I love how as a whole, they start at a very basic level not assuming that everyone taking the GRE has had the same amount of exposure to math. I'm sure I'm not the only one who has seemingly forgotten some simple mathematical rules and know-hows due to many years of disuse.
The lessons are amazing.. Thank you for adding them!!!
This feedback is exactly what we were hoping for. And starting today, we're excited to give all of our customers access to our new video lessons! To celebrate the launch of video lessons, we're offering a discount on Magoosh GRE Prep until September 26, 2011. Click here to learn more and sign up.
Check out these sample video lessons from our library:
Dealing with Appositions in Text Completion (or Sentence Equivalence)

General Probability Strategies

And here's a screenshot of our entire GRE video lesson library with over 150 videos, it's long!

I'd love to hear your thoughts on our video lessons, feel free to comment below.