This is a common refrain from those who attempt the GRE verbal section for the first time. After all, seeing difficult words, twisted syntax, and dense passages on abstruse topics can make even avid readers tense up. If you typically do not care much for reading and/or have been out of college for a while, the GRE can seem an inscrutable language, an academic hieroglyphics. If this describes you, then the worst thing you can do is throw the book down in despair and utter the title of this post.
You can—and you will—get better. Platitudes aside, you will have to invest a lot of time, and you will need a lot of patience. Just as learning a foreign language can be difficult and frustrating, so too is preparing for the GRE. Yet, if English is not your first language, then you already have learned a foreign language. So you definitely have the requisite grit to help you improve in verbal (indeed, I'd say that learning a foreign language from scratch is more difficult then scoring a 155 Verbal on the GRE).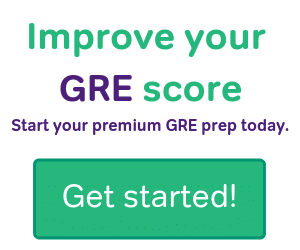 Now that I've instilled a positive attitude, what are some specific things you can do to improve at the Verbal?
Read, read, and read
Oh how important this is. If you do not read much, your brain is not going to like you after you force it to try to read a 450-word passage on test day. Only by reading—and reading challenging, thought-provoking stuff—will you have an easier time navigating the treacherous waters of verbiage that is the GRE verbal section.
To learn more about what to read and how to read, check out this Magoosh blog post on How to "Read in Context" for the GRE.
Fall in love with words
Perhaps that sounds overblown. But, honestly, you will enjoy studying for the GRE far more if you learn to appreciate words. Perhaps the tactile sensation 'lugubrious' brings to your lips, the comical imagery of 'troglodyte', the ethereal quality of 'diaphanous', or the sheer whimsicality of 'curmudgeon' will make you a vocab-o-phile. If you need more nudging on your path to falling in love with words, don't forget our weekly vocab series: Vocab Wednesdays.
You can also check out our top 20 most common GRE word list.
Focus
To say you are terrible at verbal is vague. Identifying specific areas in which you struggle on verbal can help boost your score. Is it vocabulary, reading comp passages, specifically just the reading comp questions? Whatever the case, target specific areas. Magoosh has a handy feature that lets you practice questions by type. You can do One-blank Text Completions, Two-blank Text Completions, Reading Comprehension, etc. You can also sort by difficulty level.
And remember — keep a positive attitude. A weakness is but an opportunity to build another strength :).