As we've come to see, the GRE can be quite expensive. If you're asking "Is there a discount for the GRE?", here's what you need to know: the GRE offers a fee reduction program for those who qualify.
When applying for the GRE fee waiver, it's important to understand the fees that are covered by the fee waiver program. Check if you qualify for the GRE cost waiver program and learn how else you can reduce your GRE costs.
Here is everything you need to know about the GRE fee waiver and ways to reduce GRE fees.
What is a GRE fee waiver and what does it cover?
The GRE fee waiver covers half of the price for the GRE test and also offers qualified test-takers additional resources to help them prepare for the GRE. As you've learned about GRE and its fees, taking the GRE can be costly for some. This is what makes the GRE fee waiver program essential, so here's a summary of what it covers.
Included
Coverage
50% Fee
50% off GRE General /
Subject Test

Prep Materials
$100 worth of materials
Online Practice Tests
2 tests, 1 writing practice
Not only will you save on the cost of taking the GRE, but you'll also enjoy additional benefits when you qualify for the GRE fee waiver program.
A GRE fee reduction voucher offers test-takers a 50% reduced price on one GRE General Test and/or one GRE Subject Test
All test takers who receive a GRE General Test Fee Reduction voucher will get free access to $100 worth of GRE test prep materials including two online practice tests and online writing practice.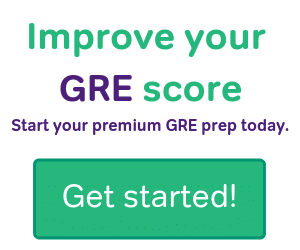 Remember that waiving the fee for retest and rescheduling of tests is not covered, so you will have to reapply for the fee waiver to retake the GRE. It's now time to see if you're eligible for this program.
Who qualifies for a GRE fee waiver?
GRE fee reduction vouchers are offered on a first-come, first-served basis to a limited number of eligible students in the United States, Puerto Rico, Guam, or the U.S. Virgin Islands. For you to qualify for the GRE fee waiver, you have to meet the requirements listed below.
For College Seniors:
Those who are receiving financial aid.
Have a FAFSA Student Aid Report (SAR) that shows a parental contribution of not more than $2,500 for the senior year.
Self-supporting and have a SAR reflecting a contribution of not more than $3,000 for the senior year.
For Unenrolled College Students:
Students who have applied for financial aid.
Have a SAR report reflecting a self-supporting status and a contribution of no more than $3,000.
For Unemployed Applicants:
18+ and able to submit a copy of an Unemployment Benefit Statement from the past 90 days.
Domestic vs. International Student Requirements
If you're a domestic student, review the requirements listed in the previous section and see if you qualify for the GRE fee waiver. The program requires you to either be a US citizen or a permanent resident.
ETS currently does not offer the GRE fee waiver program for international students, so you may have to cover your full fee as an international student. Don't worry, if you are an international student, you still have options to help you reduce your GRE fees.
Look for an organization that can help with your GRE fees through pre-paid GRE vouchers.
Pool in vouchers from friends, family, and mentors.
Contact your universities to see if they can help reduce the fees for you. All you have to do is download this form for the GRE vouchers.
There are also programs and organizations that can help reduce your GRE costs.
Programs That Offer GRE Cost Waivers
Students in programs that support underrepresented groups may be eligible for a GRE cost waiver. Here are some programs that offer GRE fee reduction assistance for qualified members:
More programs offer financial support for underrepresented minority (URM) students. Two programs that have started offering GRE fee assistance are the i-Scholar Initiative and Admit.me Fellows.
How to Apply For a GRE Fee Reduction Waiver:
If you meet the requirements for the GRE fee reduction waiver, follow the steps below to apply for the program.
Complete the GRE Fee Reduction Request Form (PDF) following all of the instructions on the form carefully. Make sure to have your completed FAFSA and SAR handy.
Receive your GRE voucher number via email within 2 weeks of your request.
Submit another application for additional vouchers if you want to re-test.
If you think that you're eligible for a GRE fee waiver through an academic institution or organization you're affiliated with, ask your point of contact from said organization. Keep in mind that the GRE fee waiver vouchers are limited and are for one-time use only.
There are also other ways to keep your GRE test-taking expenses low. As we wrap up this article, learn some helpful tips to help you keep the costs low with or without the GRE fee waiver.
Tips for Keeping Costs Low
Now that we've covered everything you need to know about the GRE fee waiver, here are some helpful tips to remember if you want to reduce your GRE test expenses with or without the waiver:
Plan carefully to avoid rescheduling your GRE test, which would cost you at least half of the GRE fee each time you reschedule.
Join physical or virtual study groups to look for free guides and to source secondhand materials from fellow GRE test-takers.
If you get approved for the GRE fee waiver, utilize the free score reports. You are given four free test reports for the top four choices of grad schools.
Look up free resources and articles on GRE. Begin by heading over to our free complete GRE guide.
Apply everything you've learned in this article to mitigate as many fees as you can for your upcoming GRE. Review your eligibility, process your GRE fee waiver application, and apply cost-reducing measures for your GRE. At the end of the day, remember that the total cost and resources of taking the GRE are your initial investment to a career and future that you will be grateful for!