This GRE eBook, The Complete Guide to the GRE, is a compilation of the best of the Magoosh GRE blog, and we're happy to be able to share it with you for free, via PDF! It has everything you need to know about the GRE, including:
An introduction to the GRE format
Overviews of each section (Quantitative, Verbal, Writing)
Recommended strategies, practice questions, and explanations for commonly tested concepts and question types
Links to all of our study plans
Suggested resources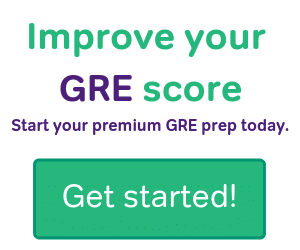 We hope you like this eBook! Print it out, share it with friends, and use it as an introduction to the GRE as you're starting out, or reference it throughout your GRE journey.

Bonus Resources:
If you're willing to spend a bit of $$ on GRE prep books, please check our our list of the best GRE prep books on the market, or check out our GRE books video below. It'll save you research time and money.


Last but not least, check out Magoosh's GRE Prep App. It's a free Android and iPhone app that allows you to access all the Magoosh resources (lessons, practice questions, study schedules, and more) on your phone.
If you have any suggestions for things you'd like to see in the next edition of the GRE eBook (word lists? :)) or any feedback at all, let us know in the comments!