U.S. Green Card holders face different college entrance testing rules than international students. This is true for the TOEFL and other exams.
TOEFL-like exams for U.S. Green Card holders
There are quite a few TOEFL substitutes out there. Universities commonly accept the IELTS as an alternative test to the TOEFL. The Eiken and TOEIC are sometimes also accepted as a TOEFL substitute too.
Like the TOEFL, these exams are given almost exclusively to international students. Some universities do ask Green Card holders to take these tests. But more often than not, those with permanent residency in the U.S. can skip these kinds of tests. If a school doesn't ask U.S. permanent residents to take the TOEFL, it won't ask for any other TOEFL-like exams either.
English skills placement tests for U.S. Green Card holders
When someone clearly comes from a non-English speaking background, schools usually ask them to do placement testing for English skill. Don't worry though– a placement test can't be "failed."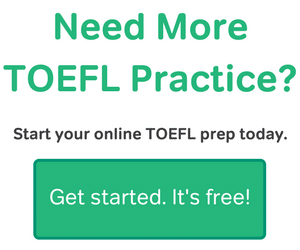 In fact, placement tests aren't used for admissions at all. Instead, this kind of English exam is used to decide which English classes a student should be placed in when they begin their studies. If your English abilities are a little low, you may be placed in an easier English class, so that you can build up your English skills as you work on your degree.
At the moment, the ACT Compass ESL assessments are the most common English placement tests in the U.S. However, the Compass will be discontinued at the end of 2016. Increasingly, universities are creating their own English placement assessments, often involving oral interviews as well as standardized testing.
The SAT and ACT for U.S. Green Card holders
The SAT and ACT (featured on the Magoosh High School Blog) are the standard entrance exams at four-year universities in the U.S.A. and Canada. Some North American universities require international students to take both the TOEFL and one of these regular college entrance tests, while other universities only ask international students for the TOEFL.
In contrast, U.S. Green Card holders must take either the ACT or SAT when applying for undergraduate study, and usually do not need to take the TOEFL. Permanent residents of the United States will be held to the same SAT/ACT score standards as native English speakers and U.S. citizens.
The GRE and GMAT for U.S. Green Card Holders
The GRE and GMAT are the two most commonly-required graduate admissions tests in North America. A grad school applicant's U.S. status does not have any impact on GRE or GMAT requirements. International students, U.S. Green Card holders, and full citizens of the U.S. and Canada all face the same score requirements for these two exams.
The same goes for other more specialized exams, such as the LSAT and the Praxis. The minimum scores on graduate exams are the same for permanent residents, international students, and everyone else. This is the one type of testing standard where U.S. permanent residency makes no difference at all.
Most Popular Resources