The most challenging aspect of studying for the GRE – and being a graduate student, for that matter – is learning to manage your study time wisely. Staying organized and self-motivated while keeping procrastination at bay is no small feat.
(Trust me. Candy Crush and Instagram were invented while I was in grad school. I know.)
Luckily, Magoosh's GRE Study Schedules, which accompany our GRE prep, take care of all the organization and planning for you. In fact, we just revamped our most popular GRE Study Plans so that they are now in an easily printable Google Doc format, with page numbers and live links to all materials. Thanks to all the Magooshers who wrote in requesting this change – great idea!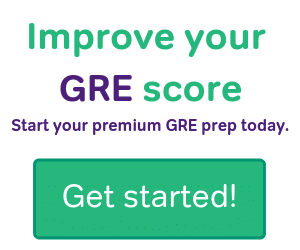 So, whether you have one week to prepare for the GRE (I'll bet you know a thing or two about procrastination) or several months, and whether you're a true beginner or an advanced GRE student, we have a study schedule for you.
Revamped GRE Study Plans
Not only did we create printable versions of each study plan, but we also updated the essential and recommended materials, added strategies for studying with our flashcard app, added more Magoosh questions and practice tests (including our new free GRE practice test with answers and explanations!), and updated the recommended vocabulary materials.
These study plans are up-to-date and reflect the newest and (in our opinion) best materials on the market. Take a look!
1 Week Study Schedule:
1 Month Study Schedules:
2-3 Month (90 Day) Study Schedules:
How to Use a Magoosh Study Plan
Determine how long you have to study for the GRE and pick the plan that most closely meets your needs.
Identify your strengths and weaknesses and pick the study plan that is best for you. (Consider: Do you want to focus on math or verbal? Are you a beginning or an advanced GRE student?)
Download all the essential materials listed in the study plan.
Print the Google Doc version of your chosen study plan. Use it to check off assignments that you've completed, highlight concepts that you need to review, and take notes on your progress. Carry it with you and study on the go!
Study a little bit six days a week, each week before your GRE, except the day before the test.
Adapt your plan so that you can review concepts on the go. Downloading the Magoosh GRE Prep App can help you view and track your lessons on Android or iPhone.
Follow the study schedule, keep track of your progress, eat well, get good sleep, exercise, and make sure to take meaningful study breaks and have some fun!
If you're looking for more resources to turn to in your studies, check out our big list of free GRE resources.
Have questions or additions to the study guides? Find errors? Leave us a comment on the corresponding blog post and we will get right back to you!