After you take the GRE, you may ask yourself, "How long does it take to get GRE scores?" and "How do I send my GRE score report?" In this article, I'll tell you how to send GRE scores to schools as well as answer other GRE score-related queries. Let's do it!
The process of sending GRE score reports can seem downright confusing at first. But have no fear. I'm about to demystify the act of sending your GRE score report. Read on to learn everything you need to know.
"Can I send my GRE score report for free?"
Magoosh gets this anxious question from many budget conscious students. It's understandable to worry about various testing fees. There are many different potential fees and costs for taking the GRE.
But I'm happy to tell you that the answer to this question is yes— yes, you can send your GRE scores for free! And actually, you can send as many as four score reports for free.
After you pay your registration fee, ETS lets you select up to four different schools as recipients of your GRE scores. On the computer-based test, you select your four score recipients in the test center, on test day. If you're taking the paper-based GRE, you select your four schools at the time of registration.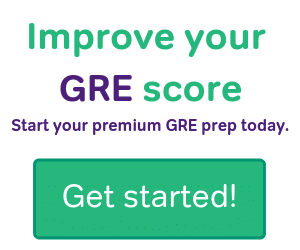 Those four institutions will not know the other institutions, if any, to which you are submitting your scores. An institution will only see your GRE scores, your intended major, and some basic personal info.
Be cautioned, however, that only the first four scores you send are free. If you order any extra scores beyond the first four free ones, you'll need to pay  a fee of $27 for each additional score report.
Can you send GRE scores after registration or after test day?
You can only send out the free score reports on test day (for the computer-based GRE) or at the time of registration (for the paper-based GRE). In light of this rule, you may wonder if you're allowed to request additional score reports (the ones that have a $27 fee) after you take the test.
You definitely can order more score reports after you  name your initial recipients . In fact, you can request additional GRE score reports for as long as your scores remain valid. This brings me to the next score-related question that GRE test-takers often ask….
For how long are GRE scores valid?
This is a somewhat complicated question. ETS has made some recent changes to their rules for GRE score validity.
Let's start with the old rules first. If you took the GRE before July 1st of 2016, your scores are valid for five years after the end of the ETS "testing year" in which you tested. What is an ETS "testing year"? It is a one year period that starts on July 1st of a year and ends on June 30th of the next year. This is a confusing concept, so I'll explain with an example. Let's say you took the GRE on April 6, 2012. The end of that ETS "testing year" was thus June 30, 2012. Then, 5 years from that date would be June 30, 2017. After that date, your scores would no longer be valid.
Now, let's look at the new rules, which apply to any exams taken on or after July 1, 2016. Under these new rules, your scores will expire after a five year period that starts on the test date. So  if someone sits for the GRE on– say– September 25, 2016, their scores will expire by September 26, 2021.
How long does it take to get GRE scores? And how long does it take to send them out to schools?
These two questions go hand-in-hand. As a test-taker, you'll get your official GRE scores 10-15 days after your test date. Your scores will be sent to you electronically, appearing in your ETS account.
But will your schools be able to see your GRE score report in 10-15 days as well? That's the big question. The short answer is "it depends." Your schools may or may not see your GRE scores as soon as their generated. It all depends on the method that a school uses to receive GRE scores.
Some schools choose to receive GRE scores electronically through one of two services: the ETS Data Manager Portal, or an automated server-to-server feed. ETS sends its scores through ETS Data Manager two times a week, on Tuesdays and Thursdays. In contrast, automated server-to-server feeds send the scores automatically, in real time (hence the name). So if your recipient school has an automatic feed with ETS, they are guaranteed to see your GRE scores at the same time that you do.
Of course, there are also some schools that can only receive GRE scores by mail. Here, the turnaround time can vary a lot. First, let's look at the score recipients that you select before you receive your scores. For these schools, ETS will send you scores out in the mail on the same day that you get your scores online– 10-15 days from your test date.
For score reports that you send after you've gotten your scores, the mail goes out a bit more slowly. If you go into your ETS account and order an additional score report online, your scores will be put in the mail within five business days of your request. You also have the option to fax or mail a GRE Additional Score Report Request Form to ETS. If you go this route, ETS will put your score report in the mail ten business days after they get your request form.
Once a GRE score report is out in the mail, it can take anywhere from a few days to a few weeks for your school to get the scores. It all depends on where your recipient school is, and whether or not your recipient is in the United States. Ultimately, mailed GRE scores could arrive at their destination anywhere from a few weeks to a few months after you request them.
If you're worried that mailing your GRE scores will take too long, check with your school to see if they receive scores electronically or by mail. If your school is a "mail only" school, you might want to encourage them to start using ETS Data Manager. ETS Data Manager service can be set up almost instantly, and is offered to schools free-of-charge.
Editor's Note: This post was originally published in June 2012 and has been updated for freshness, accuracy, and comprehensiveness.