There are a lot of schools that draw a hard line when it comes to the TOEFL—they really want to see TOEFL scores for admissions, and nothing else will do. But there are also quite a few schools and other agencies that see the TOEFL as one of several ways to prove English ability. In this post, we'll look at alternatives to the TOEFL that are accepted in some cases.
Testing alternatives
The most obvious alternatives to the TOEFL exams are other exams. The Cambridge IELTS is by far the best-known alternative English proficiency test. This alternative is nearly always available in immigration and professional licensing programs that accept the TOEFL. Australia accepts the IELTS as well as the TOEFL for skilled migrants, and most medical professions will accept the IELTS as a TOEFL alternative too. The Eiken exam, which is designed primarily for native Japanese speakers, is also accepted as a TOEFL substitute in some cases.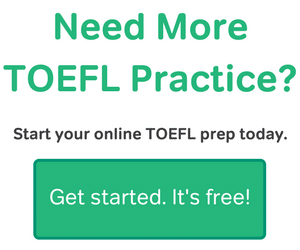 Certain general academic exams can also serve as TOEFL substitutes. The SAT and ACT are college exams that test general academic knowledge. These exams are designed primarily for domestic students in the USA and Canada. Because they are written and administered entirely in English, some American schools view passage of these exams as sufficient proof of English ability. There are also instances where graduate schools will accept passing scores on the GRE and GMAT as a substitute for TOEFL scores. Don't assume these exams work as substitutes, though—many schools require the TOEFL and a general academic knowledge exam.
Schooling alternatives
Sometimes providing proof of extensive schooling in English—such as attendance at an English language grade-school or high school—can exempt you from taking the TOEFL. This is especially true if you're from a country where English is a common lingua franca (see the countries listed in this post for possible examples). But proof of prior English learning is still valuable if you're from a country where English is not a major spoken language. If you attended an international school or English immersion school anywhere in the world, your schooling could potentially be seen as sufficient demonstration of English ability.
Passing grades in College Board AP, Cambridge IGCSE, or International Baccalaureate (IB) courses are also sometimes seen as a replacement for TOEFL scores in school admissions. AP courses are primarily offered in US high schools, so this option is best for international high school students in America. The Cambridge IGCSE is offered in Cambridge schools and Cambridge-supported high school programs all around the world. The IB is similar to AP and IGCSE, and IB courses, like IGCSE, are available in many different countries.
And of course, colleges and universities themselves host certain courses that can be taken as a substitute for passing TOEFL scores. Intensive English programs and class schedules based on conditional acceptance are available at a growing number of US schools, including some very prestigious top schools.