This is my latest post in my series on practicing the skills that the TOEFL measures:
Today, we'll look at the Writing Section. As you may already know, the Writing Section has just two questions.
The Integrated Writing Task
Writing Section Question 1 is an integrated reading/listening/writing question. The integrated TOEFL Writing task focuses only on readings and lectures, with no audio of conversations and no classroom discussions. This task measures your ability to understand the differences between speech and a related reading passage. More specifically, it measures your ability to recognize disagreements a speaker has with a reading.
To practice this skill, find a lecture that contains opinions. Then find a reading on the same subject that expresses different opinions. Avoid lectures on the "hard sciences." Hard sciences include fact-based disciplines like biology, physics, and so on. It's pretty much impossible to find a speaker and a writer who disagree about experiment results and other accepted scientific findings. Instead, look for lectures and readings in the "soft sciences." These include subjects like sociology, history, and economics.
Economics is an especially good topic for TOEFL Integrated Writing Practice. Many scholars have strong opinions about economics. I did my own search. I was easily able to find a Khan Academy lecture on housing economics that was very opinionated. I then Googled the opposite opinion. I found a lot of articles that disagreed with the Khan Academy lecture, and decided this one was the best.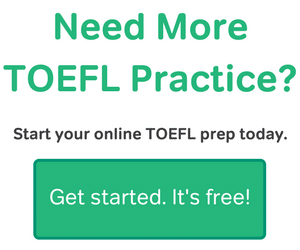 Once you've found a good lecture/article pair, take notes on both. Compare the opinions. List the views in the lecture in one column and list the written views in the other. Where do the views differ or challenge each other? Using your notes and chart, write a full essay describing the difference between the reading and the lecture.
The Independent Writing Task
Much like the Independent Speaking Task, the Independent Writing Task measures your ability to discuss your personal life and give personal opinions. Here are some of ETS' official sample questions:
"This week, your government announced plans to invest significant amounts of money in the exploration of outer space. Write an essay explaining why you are either for this new plan or against it. Explain your thoughts using examples."
"If you could choose any place to live in the world, where would you live? Explain your thoughts using examples."
"Opinion: It is better have an low-stress job than a job with lots of responsibility. Do you hold this opinion, or disagree with it? In your essay, include supporting details."
This task is more personal and more social than the first TOEFL Writing Task. You can practice social written communication on the Internet. Internet message boards are a great place to practice writing your opinions about almost any topic. You can write about sports, TV, academic subjects), and much more. On these forums, you can also read the opinions of others. Remember what Kate says: to become a better writer, you should read a lot.
Kate is also right to say that you should practice pre-writing. Your opinions will be respected more by message board posters and TOEFL raters alike if they are carefully pre-written.
The practice activities I've suggested will help you pass the TOEFL. You'll also learn new things and get to share and exchange opinions. These activities are your road map to being a successful test-taker and a more well-rounded person!
Most Popular Resources
[crp limit="4″ post_thumb_op="after"]