In my fourth post about the skills measured on the TOEFL, we'll look at the Listening Section. TOEFL Listening measures your ability to understand conversations, group discussions, and informational speeches. These abilities are not specific to academic English. In fact, when you practice these skills, you won't even need any special academic material or help!
I have already mentioned that you can practice listening to speech similar to TOEFL lectures, discussions, and conversations by watching TV and movies. Furthermore, if you live in an English speaking country, it should be easy to find events with public speakers and discussions. In English speaking communities, you can also practice conversational listening when you talk with bankers, store clerks, or anyone else who helps you conduct personal business. These conversations are good practice for the TOEFL, because the conversations in TOEFL Listening involve day-to-day business on campus.
If you live in a place where there aren't very many English speakers, there are still ways to get some real life English listening practice. Try looking through websites for English speaking communities of expats (people living outside of their home country) in your area. Look up English language expat groups and gatherings near you on websites like Expat Forums and the Expat Blog. It is particularly useful to join an expat English language book club, such as this one in Spain, or these ones in South Korea. If you can't find an English language book club where you live, you may even want to start one of your own! You should also seek out English language specialty bookstores, restaurants, or other places where you can practice doing business in English.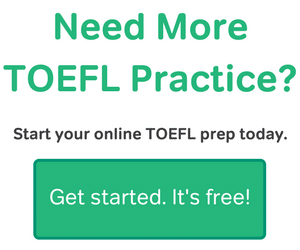 Whether you are in an English-speaking country or not, the Internet gives you many chances to listen in English. To practice business-related conversational listening in English, use Skype or Google Voice to call an English language business. Ask them about their products. I especially recommend calling the national call center for a large bank or store. I worked at both of types of call centers before becoming a teacher. My co-workers and I regularly took calls from people who were practicing their English.
Needless to say, many of the skills measured in TOEFL Listening are far more specific to academic English. In my next post, we'll discuss those skills, and the best ways to practice them. In the meantime, read through our top tips and tricks for TOEFL Listening to find out more!