As I've mentioned before, the TOEFL is starting to add audio of non-American native English speaking accents. Last time, we looked at British English. Today, I'm going to show you some good resources for listening to Australian English.
Many students I work with tell me that they find Australian English more challenging than the two international standard Englishes: British and North American English. Australian English is closer to UK English than US, but it does have many distinct pronunciation features that are different from either international standard.
In case you come across Australian accents on your TOEFL exam (or on the campus where you eventually attend school), you need to be prepared. You should test your ability to listen to Australian English by listening to the accent at different levels of difficulty. This post gives you TOEFL Listening practice at the easy, intermediate, and hard levels.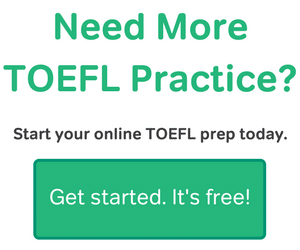 Easy Australian English Listening:
Ello.org's Australian English. On this page, Australian English speakers are interviewed about different topics. People on the tracks speak a little bit slower than they might in regular conversation. The pace of speech is similar to the TOEFL. The Australian accents are distinct and clear.
ABC Australia's Learn English website provides many Australian English learning material from beginner level onward. The ABC Video Courses focus specifically on beginner level English listening practice. All the speakers in the videos are Australian. This site really does have a lot of different beginner-level listening resources, including Living English, an Australian web-TV series designed for ESL students.
Intermediate Australian English Listening:
Natalie Tran's Youtube Channel. Natalie Tran is an Australian actress and comedian. In her Youtube Channel, she shares her thoughts in short, funny videos. Natalie speaks more quickly than the speakers at Elllo.org, but her accent is also not as strong. Because Natalie's videos are meant for an international audience, he accent is a more "international" than most Australian speech.
The Business of English YouTube Series. This series shows Australian business people talking in different professional settings, ranging from office parties to more formal business meetings. The speakers talk very clearly, but the conversations are fast paced. Each video includes a vocabulary study with word explanations.
Advanced Australian English Listening:
Many of my students have enjoyed challenging themselves by watching the Australian television comedy "All Together Now." The characters all have very strong Australian accents. They use a lot of Australian slang, and they speak very quickly. You can find a few episodes of this show on YouTube, or you can watch every episode for a subscription fee through the Umbrella Entertainment website. To help my students, I've completely transcripted episode 26 of the show. You can watch episode 26 below, and you can download the transcript here.