Exactly how hard is the TOEFL? There's no easy answer. But I can tell you which parts of the TOEFL my students have found the hardest. Today, we'll look at the hardest parts of TOEFL Reading. We'll cover the hardest parts of Listening, Speaking, and Writing in the next three parts of this series.
TOEFL Reading vocabulary
Vocabulary in written English is more complex than spoken vocabulary. TOEFL Reading contains a lot of very high-level academic words. The Reading Section has greater variety of words than you'll encounter in TOEFL Listening, TOEFL Integrated Speaking, or TOEFL Integrated Writing. To be fully prepared for this hard part of TOEFL Reading, you can build your vocabulary with Magoosh's flashcards, our vocabulary PDF, and our fun /"Vocabulary Comics" eBook. (All of these resources are free!)
TOEFL Reading time limits
A TOEFL Reading passage is between 700-800 words long. And there's always a lot going on in each passage–main ideas, details, implied information, author tone and intent, complex grammar and sentence structure, and– as mentioned before– a rich range of academic vocabulary. And you only get 20 minutes to read a passage and answer 12-14 questions about it. This likely gives you 10 minutes or less to take in all the important information from the passage, and apply the information to sometimes tricky TOEFL Reading question types. To help you with this hard part of the TOEFL, Lucas did a nice TOEFL Tuesday video lesson on tips for reading faster.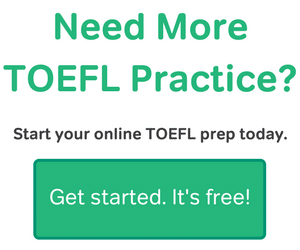 Summarizing information in TOEFL Reading
A TOEFL reading passage doesn't follow the same simple, predictable structure you might use in one of your own TOEFL essays, or in a five-paragraph essay. So the most important ideas in a TOEFL Reading passage– the passage's summarized content– may not be immediately obvious. Nonetheless, you'll still need to correctly summarize TOEFL Reading passages by correctly answering prose summary questions.
Prose summary questions are an especially hard part of TOEFL Reading because they come at the very end of a question set, immediately after 10 or more questions that focus on the smaller details of the reading. Suddenly switching from detailed information to general information can be a shock. It can be hard to suddenly change your mental approach.
But you can learn to use this change in focus to your advantage. Remember that the detail questions in TOEFL Reading deal with content in the same order that it appeared int he passage. So by answering the first 10-12 questions in the set, you've just strategically read the whole passage. Prose summary questions ask you to summarize the passage you just finished reading, and they ask you to summarize the details you just answered a bunch of questions about. From that angle, seeing the overall message of the passage and summarizing it can feel natural.. and easy!
OK, what about the other parts of the TOEFL?
In my next post, we'll look at the hardest parts of TOEFL Listening. And from there, we'll talk about overcoming challenges in the TOEFL Speaking and Writing sections. Stay tuned!
Most Popular Resources
[crp limit="4″ post_thumb_op="after"]