The Reading section of the TOEFL is probably the section where the most students have trouble with time. The writing section and speaking section can also be difficult, but reading is notorious. You only get 20 minutes for each text and set of fourteen questions. That means if you take one minute per question, you only have 6 minutes to read the text, and it's neither short nor easy to read.
So let's consider the some of the best ways to beat that clock.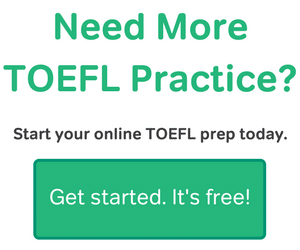 Experiment with different strategies
There are a few ways to approach TOEFL reading, and different strategies take different amounts of time. But not all students should follow the same strategy. What works for one student may be confusing or time-consuming for another student. Experiment to find out the best strategy for you. Here are a few ideas.
Go to question one immediately. After reading the question (and not the answer choices), read the text carefully until you find the area where the question is answered. Then, go back to question one and read the answer choices to find the option that matches the text. After that, read question two and then continue reading the text carefully, in the same process.

Read the whole passage before answering questions. If you are losing time because you are confused by the relationship between text and questions, this might help.

Read only the first paragraph, then first and last sentence of all other paragraphs before moving on to the questions. This method is not my favorite—simply skipping straight to question one is usually equally effective but faster—but some students prefer it. This way, you have a general understanding of the text's main ideas before you look at the first questions.

Go through all the questions before you read the text, and answer the vocabulary questions. This is especially helpful if you are on the last passage and have little time left, so you can answer as many questions as possible in the last few minutes.
Predict the correct answer
This is especially helpful for detail, function, reference, and vocabulary questions. If you see the correct answer because it is similar to your predicted answer, you may not need to read the wrong answers so carefully. This requires you to look at the text after reading the question and before you look at the correct answer.
Practice summarizing
This means reading a sentence or paragraph and thinking about the main meaning. Don't get stuck on individual words. Think instead about the author's big ideas.
Read as much as possible!
You should be reading in English every day to become more and more comfortable. The more you read, the faster it will become. 🙂