ACT Reading is a test of reading comprehension. In other words, for the ACT Reading test, you'll read a series of passages and answer questions about them. With less than a minute per question, the third section of the ACT is fast-paced—but can be mastered! Here's what you need to know about ACT Reading.
What is the ACT Reading section?
The ACT Reading Test assesses your ability to understand what you read. It will ask you to find information that is directly stated in a passage as well as understand and interpret it on a basic level. At a glance:
Reading is the third section of the ACT test
You have a 35-minute time limit
You will read 4 passages (one fiction, one social science, one humanities, and one natural science)
You will see 40 multiple choice questions (10 for each passage)
Your ACT Reading score uses the same 1-36 scale as the other multiple-choice sections, and is 1/4 of your ACT composite score.
Find out more about the skills tested in ACT Reading!
ACT Reading Passages
ACT Reading focuses on four different types of passages, using excerpts from published works in fields from biology to political science. No matter what you like to read about, you're likely to find it here—but the reverse also applies, and many test-takers have one or more areas that challenge them! On the test, you'll always see these subject areas, in this order:
Prose fiction/literary narrative (think: classic and contemporary novel extracts, memoirs)
Social science (this could be anything from ecology to psychology)
Humanities (expect to see passages about the arts, language, and many other topics)
Natural science (any science is fair game, from physics to chemistry to geology!)
These passages are between 700 and 900 words and are typically at 10th-11th grade reading level.
ACT Reading Questions
It's important to remember how many reading questions are on the ACT when you're approaching this section: 40, 10 per passage, which you need to answer in 35 minutes. In other words, not including passage reading time, you have less than a minute per question.
Overall, ACT Reading questions fall into three main categories:
Key Ideas and Details (55–60%): These questions require you to find information in the passages, often rephrased in the questions and answer choices (wrong answers may use keywords from different parts of the passage).

Craft and Structure (25–30%): For these questions, you'll need to analyze choices the author has made. Correct answers will explain the larger purpose of a text element, text structure, point of view, or organizational choice. For example, why did they include a particular word, phrase, sentence, or paragraph, in terms of the overall purpose of the passage?

Integration of Knowledge and Ideas (13–18%): Here, you'll connect ideas between parts of a passage or between multiple passages. In this case, a right answer correctly identifies the relationship between different pieces of information.
As of 2021, the ACT is following in the SAT's footsteps and adding a graphic to one passage. Questions related to the graphic will fall into the "Integration of Knowledge and Ideas" category.
These Reading questions roughly follow the order of the passage. However, keep in mind that around 1/3 of the questions will ask about the passage as a whole, so keep a lookout for those!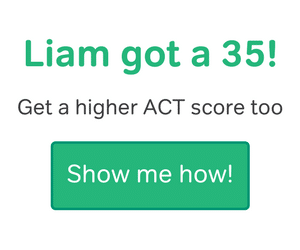 Find out more about ACT Reading question types!
Is ACT Reading difficult?
ACT Reading definitely takes some practice to become second nature. It's not at all like the reading you do for fun—it requires constant analysis as you go. And it's not exactly like the reading you do for most high school courses—it's self-contained, so you won't be making connections to outside knowledge.
With that in mind, though, ACT Reading is at the grade level of most test-takers, around 10th/11th grade level. So the passages themselves mirror the difficulty of the reading that you do in school. It's just the questions and the way of thinking about the passages that are different!
But because the ACT is a standardized test, there are patterns that you can pick up on with enough practice. This is why consistent work with good materials is crucial to ACT prep—even for already strong readers!
Find out more about ACT Reading challenges!
Is ACT Reading easier than SAT?
It depends on the type of reader that you are. Generally, the ACT is easier if:
You're a fast reader;
You struggle with graphic/visual/quantitative information;
You're not a fan of historical documents;
You like consistency in reading levels;
Why? Let's break it down.
First of all, the ACT gives you less than a minute per reading question (35 minutes for 40 questions), while the SAT gives you a bit more than a minute per question (65 minutes for 52 questions). Keep in mind that though SAT passages are slightly shorter (500-750 words, compared to the ACT's 700-900 words), there are five of them, rather than four, so it all evens out in the end.
Meanwhile, even though the ACT is adding one graphic per reading section, the SAT still has two, so those uncomfortable with this type of question may prefer the ACT.
In addition, the SAT includes passages from Founding Documents and the Great Global Conversation. These historical documents may not be to everyone's taste (though they can be mastered with practice!). The ACT Reading section doesn't use this type of passage but instead focuses more on secondary-source-type reading.
Finally, while the ACT targets 10th/11th-grade reading levels, the SAT is a bit more unpredictable. You could end up with anything from a 9th-grade-level text to a college-level text.
Find out more about ACT vs SAT Reading!
How to Prepare for the Reading Section
You might think that there's not much you can do to boost your reading skills—but that's not the case! Remember, ACT Reading tests very particular skills. And you can build these skills up over time with quality resources: good advice, solid test questions, and full-length practice tests. Here's how to do it:
✅ If you aren't reading regularly, start now. Read high-quality fiction and nonfiction reading material, such as newspapers and news magazines covering a variety of topics.
✅ Practice active reading for everything, not just a passage text. Whenever you read something new, practice:
Determining the main idea of the entire piece as well as individual paragraphs
Finding cause-effect relationships
Figuring out the sequence of events
Understanding the author's tone and purpose
The ACT will test you on all of the above!
✅ Work on vocabulary, only if it is a real weakness of yours. The ACT will not test you on very difficult words on the actual test, but you will see a few "word-in-context" vocabulary questions and you will need a decent high school-level vocabulary to fully understand the passages and grasp the meaning of words, well, in context.
✅ Practice regularly! This ACT Question of the Day post is a great resource for short, regular practice to supplement your study schedule.
✅ Make sure you have a thorough understanding of what's covered on the Reading section—and study it! This test outline will help you get there. You should also check out the most important ACT topics to study by section!
Find out more about how to read for ACT Reading!
How to Improve Reading Scores
With all of the questions we get about how to skim ACT Reading passages and how to finish ACT Reading on time, it's become pretty clear that timing can be a real issue for students on this section. And it's true that going too slowly on this section can really impact your test scores. So what's the trick to mastering timing on the Reading section?
First, check out these strategies for pacing and time management. Then, dive into more strategies for mastering time on ACT Reading before putting those skills to practice with some Reading practice questions! Here's a pacing drill you can use to get even faster.
Find out more about timing on ACT Reading!
Though it's important, don't focus only on timing, though. You'll get everything you need for a perfect score in our post on how to score a perfect 36 on ACT Reading. Finally, round out your knowledge with these ACT Reading tips and ACT tips and tricks by section!
Popular Resources