Today, in a special Fall Edition of Meet a Magoosher, we're talking with Kevin! You may recognize him as the star of GMAT Tuesdays and the author of our monthly Student Happiness Reports. Or you might just know him as the stoked guy answering all your testing questions! However you know him, here's a chance to get to know him a little bit better … in this exclusive Q&A!
1. Hey, Kevin! How was your weekend?
My weekend was most excellent. I spent two days backpacking and camping in Point Reyes! It was absolutely glorious. The weather was perfect! I was surrounded by friends that I've known for a very long time. And it was all a celebration for SeanPlusPlus! He's getting married in November and we went camping to celebrate!
2. If you could invent a holiday, what would it be and why? How would people celebrate it?
Great question! My holiday would be a two part holiday. The first part is called "Stoked Day" and everyone would celebrate by spending time with friends and family and eating good food. It'd probably be in the spring or summer, so you could be outside to BBQ and play frisbee or horseshoes, or bocci—whatever you want. The only requirement is that you do things that make you stoked and make people around you stoked!
Then a week later, you would have the second part of the holiday, where you sit around and remember how stoked you were a week ago. Then you would think about how you could make every day more like that day. The last part of the day involves spreading the stoke and doing good things to make other people happy. This part of the holiday would be called "Being Excellent to the Universe Day!"
3. It's October, so you know what that means — lots of pumpkin carving and nonstop scary movie marathons! What's the scariest movie you've ever seen?
The Shining! I saw that movie way too young!

4. If you had unlimited funds to put toward a Halloween costume, who and/or what would you be?
I don't get super stoked about Halloween. It's a fine holiday, but I don't think I would really need that much to put together a good costume. I think I would be a happy clown again. That was the most fun. I painted my face, had a rainbow wig, massive pants with suspenders, and a colorful shirt. The pants had wire around the waist so they stayed open and I would pull out balloons and make balloon hats for people. It was awesome! Yep, I'd do that again!
P.S. No clown .gif here. Clown .gifs are scary.
5. What's your favorite part about the fall?
Thanksgiving! Is that still in the fall? I love Thanksgiving! It's the best holiday around! 😀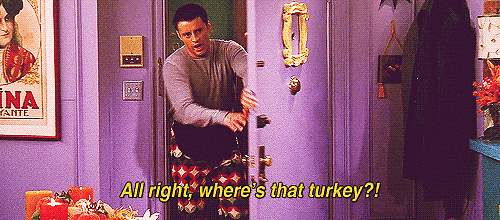 I also love cold, crisp nights on the California coast.
6. What's your favorite part about working at Magoosh?
The people and the mission. I am so very lucky to work with extremely smart, friendly, and hard working people. I have had many jobs ,and I've never been in a place like Magoosh. Everyone cares! It seems crazy and too simple of a thing, but so many people show up to work and don't really care. Maybe they care a little. But everyone at Magoosh really, really cares. They care about people, and they care about our students. We all care about out students succeeding. That simple fact makes Magoosh a truly wonderful and special place. We get to go to work and help people from around the world get one step closer to a life changing educational experience! Isn't that an amazing thing to do? I am a very lucky person to be at Magoosh.