If you've been studying for the TOEFL, you may have realized that the test uses very specific types of examples for prompts and passages. In a reading passage, you might read about the extinction of a particular kind of bird, or about the life of Albert Einstein. A listening question might be based on a dialogue between two students facing a dilemma regarding a group project that needs to be turned in. That's right: the TOEFL tests a lot of English skills that are related to academia. The exam can do this by either providing a text or a lecture such as you might expect to see or hear in a college-level course, or by presenting a situation that a student attending college might encounter.
However, the TOEFL isn't necessarily just for college admissions. ETS, the company that makes the TOEFL, states that "The purpose of the TOEFL iBT [Internet-Based Test] is to evaluate the English proficiency of people whose native language is not English." That covers a lot of ground!
ETS does acknowledge that the test scores are "primarily used as a measure of the ability of international students to use English in an academic environment." As you might imagine, or may have experienced yourself, this extends beyond admission to undergraduate studies to include graduate studies and professional studies, including MBA and MD programs.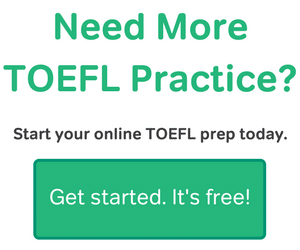 Even though the TOEFL is primarily used to gain admission to academic institutions, that doesn't mean that it won't be helpful in other situations. For example, foreign students may find that a high score on the TOEFL helps them in seeking employment after the end of their studies. Including a TOEFL score on your resume can help demonstrate to employers that you have achieved a certain level of fluency in English, which may be a concern for some businesses when considering hiring a non-native English speaker.
In short, the TOEFL is primarily an academic test, but it can be useful in other scenarios. However, if you don't need to take the TOEFL for admission to an academic program, it might not be worth the time and effort preparing for the test will take. When in doubt, it's always best to ask employers if they would like to see scores before you dive in!