ETS offers several different free resources to help students prepare for the TOEFL. One of their free resources has an especially large wealth of material. I'm talking, of course, about Quick Prep, ETS' large free online library of TOEFL practice questions and audio tracks.  Quick Prep is a resource that Magoosh strongly encourages all students to use. In fact, it's even a key part of the TOEFL study plans we offer.
(NOTE: TOEFL Quick Prep is slightly outdated, reflecting the old format of the practice tests. See Magoosh's guide to using older TOEFL prep materials for an update on how to use them, beyond what I've described in this post. And be sure to check out ETS's recently updated free TOEFL practice: the official TOEFL practice test, and the official TOEFL practice sets.)
Like any good resource, Quick Prep works best if it's used carefully and intelligently. You'll find that the wide variety of TOEFL materials the ETS offers means that you can use them to get advice or feedback on different aspects of the test, create a full TOEFL practice exam for yourself, and study on the go. However, Quick Prep does have its problems.
In this post, we'll take a closer look at the best ways to take advantage of what Quick Prep has to offer.
Using the benefits of TOEFL Quick Prep
One of the most powerful features of Quick Prep is its easy accessibility. PDFs can be instantly viewed and audio tracks can be played immediately in-browser. No signing up or installing of special software is required. Best of all, all Quick Prep materials are hosted directly on the ETS website. This means students won't face the access issues they sometimes face with YouTube and other third party sites that are banned, blocked, or limited in many countries.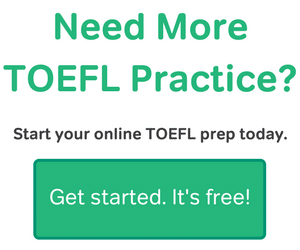 Easy access to Quick Prep materials allows you to use the site almost anywhere and almost anytime. It also allows you to share the prep materials very freely with study partners, teachers and tutors. On forums such as Urch or the GMAT Club TOEFL message boards, you can easily link Quick Prep materials and ask for advice or feedback on your responses. Quick Prep links can also be shared freely in both online and face-to-face tutoring sessions.
The large amount of materials in Quick Prep is also a really great asset. Between all of the audio tracks and PDFs, it's possible to put together the equivalent of a complete exam. This means that you can do a full practice test with 100% authentic ETS-created materials! Lucas lists the full contents of Quick Prep and instructions on how to combine them into a complete practice test here.
Working around the limitations
Quick Prep really is the best free resource for TOEFL study, and it's one of the best resources period. But no test prep resource is absolutely perfect. Quick Prep has some definite limitations. The good news is that these limitations can be worked around with some supplemental materials and activities.
While it's great that Quick Prep materials are all in PDF and common sound file format, this means there is no software to create the authentic use and feel of the test interface. If at all possible, you'll want to get a sense of what the actual test looks and feels like during your studies. You can take ETS's free online full-length practice test to see what the test screen looks like and go through a few practice questions from each section of the TOEFL.
The free online test is inauthentic in one respect: it lacks a timer. For an experience as close to the real exam as possible, you'll want to use the software CD that comes with the Official Guide to the TOEFL Test or purchase some TOEFL Practice Online. I recommend the Official Guide over the practice tests, as the OG comes with better support materials and is much more affordable.
Another limitation is the lack of sound files for the first two Quick Prep PDFs. Volumes one and two (of four volumes in total) have transcripts only and lack actual audio tracks. While this is not ideal, I've used these soundless transcripts to create useful learning activities for my students—and you can do this too. Carefully reading the transcripts out loud can provide extra speaking practice. Think about what the speakers are really saying in the transcript, and read expressively their mood and message. You'll gain a better understanding of the meaning that English speakers carry in their  and in and intonation. (EDITED TO ADD: Magoosh now offers unofficial audio recordings for all of the lectures in TOEFL Quick Prep, Volume 1.)
Perhaps the Quick Prep limitation that my students most often ask me about is the lack of a table of contents for each Quick Prep PDF. This sounds like a small problem, but it creates one major hassle for students: it can be really hard to find the answer key in each long (30+ pages) PDF. To work around that limitation, look no further than the bottom of this post. I've written down the page numbers for each answer key, so you don't have to:
Finding the answer keys in each TOEFL Quick Prep PDF: