Our Full Practice Tests
Taking the TOEFL is a strange experience, and in order to prepare for it, it's important that you simulate a real test first. If you have experienced a full TOEFL before test day, you will be much more comfortable with the timing and format of the test. And if you're more comfortable, that means a higher score!
Magoosh is all about higher scores, so giving our students the ability to take full-length practice tests was a top priority. And just recently, we released those mock tests!
Our premium TOEFL students can now take full length practice tests in Magoosh, using practice questions from our bank. And taking a test in Magoosh is very similar to taking a real TOEFL.
Highlight 1: Listening
TOEFL listening has a lot of rules, but some practice material doesn't follow all the rules. For example, some other TOEFL books and some online products allow you to listen to a lecture or conversation and read a related question at the same time. But that's not possible on a real TOEFL; you have to listen first, then answer the questions. Similarly, some TOEFL products allow you to rewind recordings to listen again—also not possible on a real TOEFL.
While we do allow students to listen again, if they want, during normal practice, for our full-length mock tests, we took out that option to better simulate a real test.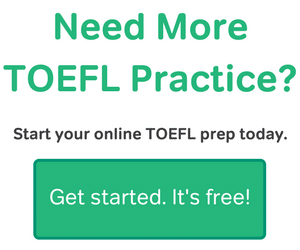 Here's what it looks like:
We understand why some sites put the listening and the questions on the same page: it's easier to create that. We used to do the same thing! But we think the improvement was worth the time and effort it took.
Highlight 2: Recording
Similarly, for the speaking section, we've created a recording tool that times your answer, so you can only speak for a short time—just like the real TOEFL. And it's not possible to look at the text or replay audio while you speak. When you're done reading and listening, you have to start speaking. This helps us to show our students how important good notes are!
And of course, we have the same type of training for the writing section. You see and hear exactly what you would on a real TOEFL, with the same time limit, in the same order.
And after you finish the test, you go straight to a score page—you don't have to wait two weeks like you do after an official TOEFL. 🙂
Highlight 3: Getting a score
From that score page, you can go back to every question you got wrong or didn't answer well, and review exactly how you could give a better answer next time. After all, learning from your mistakes is the most important part of good preparation!