Photo by Ananian
A few days ago, one of my students at Magoosh TOEFL asked me for advice on good TOEFL practice audio, beyond the official stuff from ETS. Today we'll look at some resources for TOEFL-like listening practice with conversations.
Aside from the audio in ETS's free official TOEFL materials, it's surprisingly hard to find decent free TOEFL conversation listening practice on the web. Most of the free TOEFL prep websites I've checked out offer conversations that match up poorly to the real exam, with unrealistic dialogue, improper format, and so on.
The good news is that there are some free, easily accessible TOEFL-like conversations on the Internet. But they're hidden within non-TOEFL sources. Today, I'll give you a guide to two non-TOEFL websites that can be useful for TOEFL prep.
Practice TOEFL Listening with Elllo.org
Elllo.org is one of my favorite websites for English conversation listening practice. I've mentioned Elllo in a few other posts. But the site is worth another mention today. Elllo has made some recent updates to its content, and these changes make the conversation tracks on the site more TOEFL-like.
Specifically, Elllo now includes many more conversations between North American speakers. There are still some less TOEFL-like conversations between English speakers with foreign accents, but all of these are clearly marked. You can see the flags of the speakers' countries on each of Elllo's conversation links.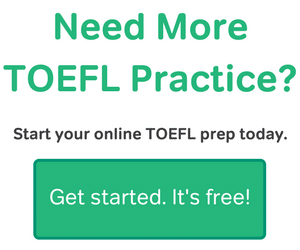 As for pacing and difficulty, some Elllo tracks are slightly slower than "real" English conversation, just like the TOEFL. Other Elllo conversations are completely spontaneous and real — actual speakers talking to each other without a pre-written script. All in all, Elllo's conversations don't have the exact same tone, pace, or subject matter as the TOEFL. But they do all involve the same kinds of accents and the same level of vocabulary as the exam. And with literally hundreds of available conversations, this site is a great additional resource for building TOEFL Listening skills.
Elllo's home page has a sampling of the site's more popular conversation tracks. And you can find links to every Elllo conversation on their Lessons page.
TOEFL Listening practice with RealEnglishConversations.com
Real English Conversations features conversations between a male and female speaker. This in and of itself is very TOEFL-like. Every TOEFL audio track features one speaker of each gender too.
As for difficulty level, the conversations are just a little harder than the TOEFL. The speakers ta;lk plainly and understandably. But they speak at their natural pace as native English speakers. And the conversations are "real" rather than scripted. The male and female host talk about their lives and their personal opinions. So sometimes they'll talk more quickly and less deliberately than a speaker would in an actual TOEFL conversation.
The Real English Conversations podcast page features 13 free conversations. This may not sound like much, but each conversation is 15-20 minutes long. So overall, this site features a real wealth of audio that can help you build your TOEFL Listening skills.
Share.America's Every Day Conversations
Share.America is a portal of news and educational materials sponsored by the United States government. This website includes an Everyday Conversations page. These "everyday conversations" are educational audio tracks, designed to teach ESL students about U.S. culture, history, tourism, and life
In some ways, these conversations are not TOEFL-like. The pace of speech is slower than the conversations on the TOEFL. And there are multiple speakers instead of just one female speaker and one male one. However, the subject matter does line up well with the TOEFL. Every conversation touches on the university-related topics you might hear in TOEFL conversations, class discussions, and lectures. And the accents are all North American, just like the TOEFL.
Each audio track also features specialized vocabulary words, similar to TOEFL vocabulary. You can build TOEFL vocabulary and TOEFL listening skills by trying to guess the meanings of these words based on the context of each conversation. And you'll be able to check your guesses, because each audio track includes a vocabulary guide.
Official IELTS Materials
As you look for extra TOEFL Listening practice beyond ETS's official materials, IELTS conversations can be useful. The IELTS has a lot of content that's not all that different from the TOEFL. IELTS conversation tracks have a very similar pace to the TOEFL. They also feature one male speaker and one female speaker, so that note-taking and separating speaking ideas can be very TOEFL-like. In fact, some IELTS conversations focus on university life and feature North American accents, making them almost identical to TOEFL conversations. (One example is this track from IELTS.org, part of a set of official IELTS sample test materials.)
Of course, there are also some obvious differences between IELTS and TOEFL Listening as well. For one thing, North American English is not the norm on the IELTS. Even the audio track I linked above has a British student speaking to the American academic adviser. For another, only some IELTS conversations have an academic theme. Most of them deal with non-school activities, such as booking a flight, planning a trip, talking with a supervisor at work, and so on.
The takeaway
Genuine TOEFL conversations have a few distinct features: just two speakers (a man and a woman), subject matter related to academics and college life, North American accents, and a pace of speech that is just a little bit slower than real, unscripted conversations. It's hard to find other sources of listening practice that have all of these features. The good news is that your extra conversation listening practice doesn't need  to be 100% TOEFL-like. Any conversation audio that has some TOEFL-like characteristics can be useful. The trick is to use non-TOEFL audio strategically, understanding which parts of the conversation are TOEFL-like, and which are not.
The audio on Elllo and Real English Conversations has two of the key features found in TOEFL conversations: North American accents, and the use of just two speakers. However, conversation audio with multiple speakers and non-American accents can be good for TOEFL prep too. While these sites may be less-than-perfectly TOEFL-like, they can still help you build the basic listening skills you need for the TOEFL.
Most Popular Resources