I sometimes get emails from teachers whose employers have asked them to start teaching TOEFL courses or tutoring individual students in this exam. I also get occasional messages from fellow teachers who are trying to break into the field of test prep instruction and are applying for TOEFL-based jobs.
Very often teachers aren't all that familiar with test prep when they first begin to teach it. If you're about to start teaching the TOEFL (or are applying for jobs that require you to do so), there are some basic things you should know and do. Here are some tips and tricks to help you wow employers and deliver good lessons to students preparing for the exam.
Tip 1: Know the Official Materials
ETS offers a lot of official practice materials for the TOEFL. Know what these materials are and how they're structured. Get your hands on the three most popular practice resources—the TOEFL Official Guide, Official TOEFL iBT Tests, and the free online TOEFL practice test and practice sets. Review the sample test items very carefully. Study and understand the length of reading passages, the nature of the audio tracks, the structure of the tasks, the kinds of distractors on the multiple choice questions, the level and range of TOEFL vocabulary, the academic topics covered in each section, and so on. (NOTE: As of this writing, ETS's free online resources are up-to-date, but the books are not. For advice on how to use the practice in the books, see Magoosh's guide to using older TOEFL prep.)
Use your knowledge of real TOEFL materials to guide your students and your employers. Encourage administrators to include official ETS materials in the curriculum of TOEFL courses, and make sure your students use authentic materials as their primary source of practice. Also be sure to steer clear of any third party materials that do not match up well to the real thing.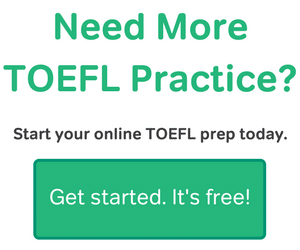 Tip 2: Teach Language Skills That are Relevant to the TOEFL
The TOEFL tests reading, listening, speaking, and writing, with a separate section for each of these four skills. So be sure to teach all four skills in balance, unless a course or series of tutoring sessions specifically focuses on just one or two of the skills.
And be sure that your exercises and assignments cover TOEFL-like themes and topics. TOEFL tasks and questions revolve around lectures, readings, and conversations related to campus affairs and common academic topics. So make sure you have a lot of English reading, listening, speaking and writing activities that are appropriate to both life and undergraduate study.
Tip 3: Teach Academic Skills that are Relevant to the TOEFL—including test skills
Outside of the realm of test prep, there is often a lot of stigma associated with "teaching to the test." In TOEFL teaching however, teaching to the test is absolutely, demonstrably necessary—good test scores are the main goal of instruction! Teaching to the test is also useful and very relevant to the academic challenges your students will face once they pass their exam and get accepted into school.
Teach your students effective, efficient note-taking for listening in the TOEFL Listening, Speaking, and Writing Sections; this skill will serve them well on the test and when they listen to real lectures in their future studies. Give students instruction on the different TOEFL question types and strategies for answering the quesitons. This helps them perform well on exam day and also gives them a good "skills preview" of the for course exams they'll take once they're enrolled in classes abroad. And teach your students efficient pacing within TOEFL time constraints. This too has broader value, as effective pacing skills can help your students make good use of study periods in their long-term academic careers.
Most Popular Resources