Though the TOEFL Speaking section is the shortest section of the TOEFL test, many students struggle with it the most. Speaking in English, into a microphone, under a time constraint, in a room full of other test-takers … it can be stressful if you're not prepared. Luckily, you have time to prepare! By understanding the format of the TOEFL Speaking section and some strategies for making good use of your time, you'll be able to answer all four speaking questions in the allotted time. Read on for TOEFL Speaking tips, TOEFL Speaking practice, and a TOEFL Speaking PDF.
Table of Contents
What You Need to Know About TOEFL Speaking: Infographic
Check out our new TOEFL Speaking Infographic for useful information and helpful tips!
And after you're done reading the infographic, check out Magoosh TOEFL for six practice tests with sample answers, explanations, strategies and tips for every question!

(Click the image to open in a new window and zoom in and out.)

TOEFL iBT Speaking Section: Where does it fit into the whole TOEFL?
The Speaking section is just one of four sections on the TOEFL exam. The four sections are: Reading, Listening, Speaking, and Writing (in that order).
Here is a breakdown of how you will spend your time during the TOEFL:
Reading

54-72 minutes
30-40 questions
Listening

41-57 minutes
28-51 questions

The Structure of the TOEFL iBT Speaking Section
The TOEFL Speaking section actually tests more than just your English speaking skills. It tests your ability to read, listen to and understand recordings by native English speakers, pronounce words correctly, use appropriate grammar, and manage your time wisely. This section also tests exam-taking strategies, such as your ability to remain focused and take brief notes.
Though you won't be speaking directly with another person, you will be speaking out loud into a microphone. No one will be listening to you in the moment, but your recordings will be graded at a later date. Hopefully, you will find this to be less nerve-wracking than speaking to a live person – you could even do it with your eyes closed! 🙂
TOEFL Speaking Questions
The Speaking section is made up of four tasks, which require you to give personal opinions, summarize lectures and conversations, and speak about the opinions of others. TOEFL Speaking topics vary, but the format of the section is always the same.
There are two categories of questions in the Speaking Section: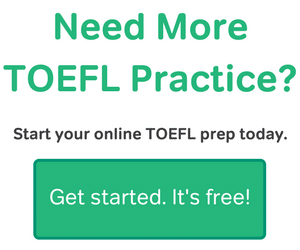 Independent (Task 1)
Integrated (Tasks 2 – 4)
Independent Task 1:
You'll be asked a general question about your your opinion on a topic.
Expect familiar topics. You'll be asked general questions about broad social issues.
You'll have a relatively short time to take notes and gather your thoughts.
You'll respond into the microphone.
Preparation time is 15 seconds and response time is 45 seconds.
Tip 1: Your answers and opinions don't have to be true! No one is going to fact-check your response, so go ahead and be creative if it saves you time and angst.
Tip 2: The structure of each of these questions is very similar. Most often the question will read "Do you agree or disagree with the following statement? Use details and examples to explain your answer." But even when you don't get that exact wording for the question, your basic task remains the same: take a position and give specific reasons for your position.
Tip 3: Be sure to check out our in-depth guide to TOEFL Speaking Task 1 topics.
Integrated Tasks 2 & 3:
You'll be asked to read a short passage and listen to a recording on the same topic.

In Task 2, you'll hear a listening passage where students discussing their opinions on the reading passage. Both Task 2 passages deal with campus situations.
In Task 3, you'll listen to an audio clip of a professor's lecture on the topic of the text.

You'll be given 45-50 seconds of reading time, depending on the length of the passage. If you finish reading early, you'll have a little extra time to think about the subject matter before you listen to the audio clip.
You'll be given 30 seconds of preparation time and 60 seconds of speaking time.
You'll explain what you read and heard.
Tip: Use your 30 seconds of prep time to identify key information. Don't try to include every single detail in your response! You'll run out of time.
And make sure you take a look at Magoosh's free Speaking Task 2 Guide and Speaking Task 3 Guide.
Integrated Task 4:
You'll listen to a recording of a short lecture by a professor, but this time there will be no accompanying text for you to read. (This short audio clip is all you need to pay attention to!)
You'll be given 20 seconds of preparation time and 60 seconds of speaking time.
Tip: This is the longest audio track in the Speaking section, but the structure of the lecture is very predictable. The professor will make one main point and give two supporting detials. Listen for these features and make note of them.
Go here for even more information on TOEFL Speaking Task 4.

TOEFL Speaking Mock Test
Lucas, Magoosh's TOEFL prep expert, has made a full mock test on video. This test was made in 2017, so it has two additional tasks that used to be in TOEFL Speaking. However, this video still works as a mock test for the new TOEFL. Below, I've taken Lucas's original video, made clips of each of the four current TOEFL tasks. For a TOEFL Speaking experience very similar to the one you'll have on test day, complete each Speaking task linked below. (These links include onscreen instructions and an onscreen timer very similar to the one on the real test. You'll also get an answer explanation that includes a sample reponse.)
Task 1 (click to access the task)
(Listed as question 2 in video)
Task 2 (click to access the task)
(Listed as question 3 in the video.)
Task 3 (click to access the task)
(Listed as question 4 in the video.)
Task 4 (click to access the task)
(Listed as question 6 in the video)
Although the whole original video includes a question type or two not currently found in the TOEFL Speaking section, it's still quite useful. It contains helpful commentary from Lucas, and Questions 1 and 5 from that video, while no longer part of the real exam, still provide some extra practice in the general speaking skills needed for the exam. So feel free to click and play the entire original video below.
TOEFL Mock Test: Full Video (skip tasks 1 and 5 for an experience that is accurate to test day)
This full video, while slightly outdated, is still worth watching. It includes additional commentary from Lucas about these sample questions and the question types they represent.


Scoring the TOEFL Speaking Section
For each task, you will receive a score between 0 and 4. These scores will be scaled, and your combined Speaking score will be out of a total of 30 points. Here's how to rate the quality of your score:
Weak: 0-9 points
Fair: 10-17 points
Good: 18-25 points
Excellent: 26-30 points
The scores are calculated based on a rubric and certain standards. For more information on scores for the TOEFL Speaking section, see Magoosh's roundup of resources for TOEFL Speaking scores.
So, how can you boost your score on the TOEFL iBT Speaking section?

TOEFL Speaking Tips
This blog is jam-packed with strategies for succeeding in the TOEFL Speaking section. Let's break down the six best TOEFL Speaking tips we have:
1. Take Awesome Notes
TOEFL lectures are dense, so taking brief notes while you listen can help you stay focused and thinking about the main ideas. They are also great to revisit when you're planning your response.
2. Relax
Between tasks, take a 10 or 15 second break. Close your eyes, sit back, and take a few deep breaths. Sometimes you need to let your heart rate go back to normal before you can think straight. Being nervous is completely normal, but don't lose points because you're panicking.
3. Stay Focused
The test center can get noisy with everyone speaking at the same time. Try not to listen to your fellow test-takers. Try doing some TOEFL Speaking practice with distractions in the room so you can get used to tuning out the chaos.
4. Use a Template
Structuring your answer ahead of time can help you outline your response faster, and prevent test-day stress. Create a template with structure words for each task. A phrase like, "Besides that, the student also points out that…" will help organize your answer. But beware…
5. Don't Plagiarize!!
This should be obvious. Remember that TOEFL Speaking templates can be useful on the test, but be very careful. If you memorize sentences and use them on the TOEFL exam, suspicion of cheating could lead to cancelled scores.
6. Block Out Distractions
If you can't focus, try momentarily covering your ears and closing your eyes to clear your head.
It's OK to Stumble a Little
Mistakes are more acceptable in English speaking than in writing. If you stumble over your words but correct yourself, this won't necessarily have a negative effect on your score. You don't need perfect phrases or pronunciation, as long as you sound natural and confident.
Get Feedback From Others
While there are resources to score your own TOEFL Speaking, there's no substitute for having another human being judge your TOEFL Speaking responses. Hire a tutor if you can, but if you can't, don't worry. You can also join a study group, online and off, for TOEFL. Getting feedback from peers and studying with them can also help you prepare for the kinds of group learning you'll do during your university education. (For that matter, online courses for TOEFL can be a great way to connect to peers and instructors.)
Ready to Ace TOEFL Speaking? Here are Some TOEFL Speaking Tips
Remember that the Speaking section is only one part of the TOEFL exam, and that you aren't expected to speak English like a native speaker. Try to practice speaking English as much as possible in the days leading up to your test, so that you become more comfortable coming up with quick responses.
For similar reasons, TOEFL Speaking section practice is also vital, of course! Careful preparation can help you overcome the challenges this section presents. That's why it's important to practice with TOEFL Speaking materials as much as possible. Practicing will also help you feel less nervous on the day of your exam.
And with that in mind, we created a TOEFL Speaking PDF with practice tasks and model answers.

TOEFL Speaking Practice PDF (Questions & Answers)
Part of what makes this resource so great is that it embodies all of the best parts of Magoosh's premium prep. The questions, answers, and explanations were created by TOEFL Experts with many years of experience helping students AND writing Magoosh's practice questions. So, if you like this resource, you can always find more Magoosh practice in our 1 week free trial.
In this TOEFL Speaking PDF, you will find:
Task 1 – Independent: question and answer
Task 2 – Integrated: passage, conversation, question and answer
Detailed explanations of each answer
Other good sources of TOEFL Speaking Questions
As you work on your TOEFL speaking practice, you may find that you don't have much time to come up with and structure your responses, and you really have to think quickly! It can be easy to be caught off-guard at the official exam if you haven't prepared enough, or if you prepared with the wrong materials.
The right practice materials for TOEFL Speaking (like the ones created by Magoosh in the TOEFL Speaking PDF above) will have at least two different tasks: one Independent and one Integrated. Look for clear and thorough explanations of what ideal answers contain so that you can keep pushing your score even higher.
And here are some additional practice questions and answers:
And if you want more guidance, Magoosh TOEFL has six practice tests with sample answers, explanations, strategies and tips for the every TOEFL speaking question!
You might also download our free TOEFL speaking app for your iPhone or Android. The app simulates the real TOEFL speaking test with free practice speaking materials. You can even use it in offline mode any time you need more practice.
Happy speaking!
Still have questions about TOEFL Speaking? Let us know in the comments.