Antes de conocer los diferentes tipos de Temas del Examen TOEFL Speaking, asegúrate de entender los principios de la sección de Speaking. Nuestra Infografía TOEFL Speaking es un buen lugar para comenzar.
Ahora, a los detalles…
Diferencias entre las Tareas de Speaking Integradas e Independientes en el TOEFL
Como sucede con la Sección de Writing TOEFL, la sección TOEFL speaking consta de dos tipos de pregunta: "independientes" e "integradas". En cuanto a los temas, hay una división clara entre los dos tipos: las preguntas integradas TOEFL son acerca de temas académicos, mientras que las independientes son acerca de temas personales, opiniones e ideas.
Los temas "integrados" se llaman así por una razón: en ellos se integra el reading y/o el listening con el speaking. Esto también significa que la variedad de temas de speaking es tan amplia como aquellas para listening y para reading; y contestarlas bien depende de la habilidad para encontrar las ideas más importantes en un texto o una conferencia. Por otro lado, las tareas independientes tienen que ver con tu facilidad para hablar, y no en la forma en que procesas la información. Esto significa comunicarte claramente.
Tema de TOEFL Speaking 1: Selecciona uno de entre muchos
El tema de la primera tarea de speaking será algo fácil de relacionar. Será sobre un tópico general al que responderás de manera personal. Por ejemplo, se te preguntará sobre tu música favorita. O sobre algún miembro de tu familia, un hobby, o algún logro. Aquí hay una lista de preguntas tipo TOEFL que sirve de referencia. Si comenzaste a estudiar inglés en la edad adulta, te serán familiares estas preguntas. Son similares a las que aparecen en libros de inglés para nivel principiante, porque se basan casi completamente en el presente simple (ej. "Me gusta el futbol") o el pasado simple (ej. "Yo jugué futbol"). Para contestar bien estas preguntas es importante seleccionar un tema rápidamente. Si se te pregunta a qué persona admiras, habla sobre la primera persona que te venga a la mente, e inmediatamente piense el por qué admiras a esa persona.
Tema de TOEFL Speaking 2: Selecciona una Preferencia de entre dos Opciones
Este pie de tema de speaking será muy similar a muchos pies de ensayo TOEFL. Se te pedirá seleccionar de entre dos opciones y después respaldar dicha elección.
EJEMPLO: Some people prefer work that allows them move around outdoors. Others feel it is more pleasant to work in an office. Which do you prefer, and why?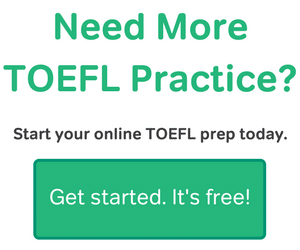 Nota: ETS solía dar una lista gratis de temas para ensayo en su sitio web pero ya no está disponible. Actualmente se necesita la guía oficial para ver dicha lista de temas.  
De nuevo, aquí se trata de elegir rápidamente. Tienes solamente 30 segundos para contestar, entonces necesitas decidir rápido y respaldar tu respuesta con una o dos razones.
¿Perros o gatos?
¿Blanco o negro?
¿Frío o calor?
Y lo más importante: ¿Por qué?
ETS tiene preferencia por las preguntas acerca de la educación. Entonces, para prepararte para el TOEFL, es buena idea practicas tu speaking acerca de tus preferencias en dicho tema. ¿Dónde te gusta estudiar? ¿Qué tipo de profesores te gustan? ¿Prefieres trabajar en equipos o por tu cuenta? ¿Qué materias te son más interesantes? (Si vas a presentar el GRE, este ensayo probablemente será sobre educación, entonces puede ayudar también a prepararte).
Preparándote para el Speaking
Hay una gran variedad de temas de speaking entre las dos tareas del TOEFL. Si también consideras las tareas integradas, académicas, el rango es enorme. Lo más importante en tu preparación no es aprenderte todos los temas, sino aprender la forma correcta de dar una respuesta completa dentro de un tiempo muy reducido y bajo presión.
Pero esa es una historia para otra ocasión.
Nuestros Otros Artículos en Español:
Temas del TOEFL Writing (Escrito)
La Mejor Práctica de Listening para el TOEFL
La Mejor Práctica de Reading para el TOEFL
Libros Recomendados para Prepararse para el TOEFL
¿Qué tan difícil es el TOEFL?
Tarea 2 de Speaking TOEFL – Tarea Independiente
Los Mejores Recursos para Preparación TOEFL Gratis
Lista de Vocabulario TOEFL en PDF
¿Qué es un Buen Puntaje TOEFL?