A lot of people have asked me "What is a good TOEFL score?" and I have wondered how to answer that question. Since there's no pass or fail on the TOEL a perfect score would of course be anything over 90 or 100 or even 110. It all depends on the program you are applying to. It's best to score as high as possible on the TOEFL so that it isn't the limiting factor in choosing universities with higher minimum score requirements.
International students, especially non-native English speakers, sometimes struggle to score satisfyingly on the TOEFL. Rome wasn't built in a day; neither can English be improved in a couple of days.
It's all about the right approach…
The first step in your TOEFL preparation is assessing your strengths and weaknesses. Once you familiarize yourself with the test pattern and practice each section individually, take a full length test. Scores of each section will reveal where you need to put in more work. Ask someone to read your essay for you and mark you accordingly. Get a study buddy; it's always a great help to have someone to prepare with. If you can't find a study buddy in person I am sure you will find one online. Pick one of them and jump on the TOEFL preparation boat together.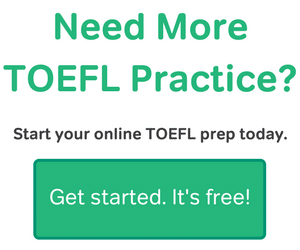 Let's talk study time
If English isn't your best cup of tea and you really need to pull up your socks to prepare for the TOEFL give yourself SIX months. Six months is enough time to progress from a basic to a proficient English user. It's very hard work but in the end it will pay off. Some quick tips to get you started
Make the internet your best friend (which it already is for many of us). Start using word apps and TOEFL vocabulary apps available on your smartphone, tablet or computer.
Start reading English newspapers, articles, books or anything you can lay your hands on. For words you aren't familiar with, look up the meaning and note them down somewhere. Keep updating, revising and reading that list regularly.
Watch television shows, English movies, news clips or voice passages/clippings to familiarize yourself with listening skills. Don't hesitate to use subtitles; they help develop reading as well.
Talk regularly in English! Don't feel shy or ashamed if you make mistakes; you will learn from your mistakes.
Start writing essays and ask someone to read them. Your study buddy could help or even a teacher; anyone who can give a feedback and point out your mistakes will do.
Remember to focus on all four aspects of the TOEFL-reading, writing, speaking and listening. A robust study plan will help you develop your English in leaps and bounds. Use the TOEFL resources available to the fullest.
For others who are fairly proficient in English you can use the 1, 2 or 3-month study plan. To help you with your TOEFL prep take a look at Magoosh's fantastic plans here. Happy studying and best of luck with your preparation!