It's easy to get lost when studying for a test as variable and unpredictable as the TOEFL can be. Here are some tips to help you to keep making progress and keep track of what you've learned.

Write every day
Write a little every day. Some people love journaling—they find writing about their experiences and feelings to be therapeutic. If you're not that kind of person, then definitely do that!
But even better, supplement your academic reading practice by writing a summary or a reaction after you finish an article. This is very similar to what you will actually do in the TOEFL (both in speaking and in writing), so it's great practice. It also helps to read more actively!
If you want, it's great to get feedback on your grammar, but if you don't want to share what you've written, the process can still be beneficial. You'll improve your fluency, have a space to try out new constructions as you learn them, and if you ever feel like you're not improving, you can look back at the beginning to see how far you've come.

Start with sources in your native language
I'm not a fan of translation, but I will admit (reluctantly) that it is sometimes really beneficial. If you have no idea where to start (or how to continue) with academic English, then use media in your native language to get started. Pick up a textbook and try to translate a paragraph (or even a few sentences). Most likely, you'll find some expressions that you don't quite know how to translate. Look them up, learn how to translate them into English (check to see if there's more than one way to say it, or if there's a difference in connotation), and then come up with similar sentences on your own to practice translating.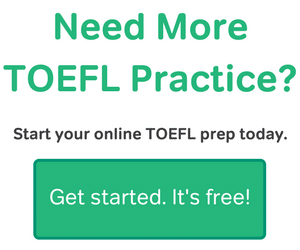 Diversify
Even if you have a great resource for academic English or an awesome grammar book, try to branch out. No one resource is perfect, and if you spend all of your time obsessing with the tense exercises on page 93 of your favorite grammar book, or memorizing the 5000 most common English words, you may miss some great opportunities. Keep in mind that getting better at English is less about memorization and more about paying attention to all the English you can. Learning and remembering new vocabulary naturally, through communication, is the best way to really learn.

Take advantage of Magoosh's free resources!
We've done the research to find out which TOEFL vocabulary words show up the most frequently on the exam. Our vocabulary flashcards are free and available online. You can also download the Magoosh TOEFL Vocabulary app on your Android or iPhone. Use the flashcards to study wherever you are. The adaptive technology will help you quickly learn the words that you find the most challenging to memorize.
If you'd prefer to study from a list of vocabulary words, you can download and print our TOEFL Vocabulary PDF. The PDF includes the 200 most important TOEFL vocabulary words, along with their definitions, parts of speech, example sentences, and difficulty level. 🙂
Good luck! Let us know if you have any other helpful tips for learning TOEFL vocabulary and grammar. We'd love to hear from you. 🙂
Most Popular Resources