When faced with a tough choice, it's easy to second-guess yourself (and the SAT is full of tough choices). Think of how hard it can be to choose toppings for a pizza. You think sausage and pepper sounds good, and you're all set to order, and then you see the barbeque chicken, and it's not so easy anymore. Then it all falls apart. Hawaiian sounds good, too…but what about something with pesto? Or maybe it'd be good to have a bunch of veggies and be a little healthier?
In situations like that, the best thing to do is usually to go with your gut. That's just as true for the SAT as it is for pizza toppings. There's a reason your original choice stood out, and unless you can totally write it off after rethinking, it deserves to be taken seriously.
Tricky critical reading questions
SAT critical reading is made up of two parts—sentence completions and passage-based reading comprehension. Both areas tend to catch test-takers up in frustrating loops of second-guessing.
In the case of sentence completions, it tends to happen because students don't know some of the words in the answer choices. Then, even if they're already looking at a word they do know and happens to be correct, they find themselves tempted by the mystery words.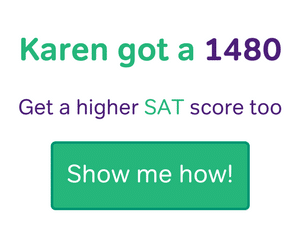 Being rare doesn't give a word any more weight.  If you have an answer that sounds good, stick with it.
In the case of passage-based reading, the SAT likes to throw in wrong answers that are slightly too strongly worded, and these make people think twice, too. If that happens, then look back at your original choice. Can you find any reason why it's wrong? If not, then don't make things complicated for yourself.
Is there actually a grammar mistake in the question?
SAT-takers second-guess themselves a whole lot in the writing section when they don't see obvious mistakes in the sentences they're given. The problem is simple: people don't like choosing "No error." (In improving sentences questions, there's no "No error" option, but choice A is just a copy of the original that you're supposed to improve.)
But they shouldn't be so hesitant. The correct answers are spread evenly among the letters A through E, so "No error" should be correct about a fifth of the time.
Now, that doesn't mean that you should just choose "No error" whenever you're not clear on what the problem is. But it does mean that you shouldn't force yourself to find a problem. Check back through the original sentence systematically. Is there any passive voice? Do the pronouns all refer clearly to things? Do the subjects match the verbs?
If it's a toss-up, go with your instincts
Even if you can't articulate why an answer seems correct, your gut feeling is better than nothing. If you're stuck between a two or three answer choices, it's a valuable tool.