Even if you're lucky enough to be receiving financial support from your family, they probably aren't going to foot the whole bill for college. So you're probably wondering, What's a good SAT score for scholarships, and how can I find them?
The short answer is that you should aim for an SAT score between 1200 and 1600 if you want to secure some scholarships based on merit–and the higher within that range you score the more money you're looking at.
However, different schools have different scholarship requirements (some even have guaranteed scholarship awards for students scoring above certain cutoffs) so you'll want to research the specific schools on your list.
Now for the long answer…
What's a Good SAT Score for Scholarships?
In this post we'll examine the different types of scholarships you can apply for, where to find them, and what some of the standard scholarship amounts offered by different schools based on SATs look like. We'll also coach you through how to set your own specific goal score, and how to structure your SAT prep around that goal!
There are many ways to earn scholarship $$$ (sports, extracurriculars, overcoming adversity, the list goes on), but this post is going to focus on how to secure scholarships through your standardized test scores – especially the SATs.
Now let's take a look at how to turn your good SAT scores into some scholarship dollars.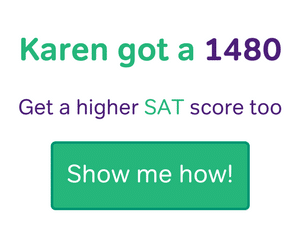 Types of Scholarships
First of all, many colleges around the country have what are called guaranteed scholarships. These scholarships are automatically awarded to accepted students who have earned a certain SAT score. The cool thing about them is that you don't even have to fill out a separate application. When you're researching colleges, keep your eyes open for what guaranteed scholarships are out there.
A larger number of colleges also have general merit scholarships. These scholarships have the same SAT requirements, but you are in competition with other accepted students for a limited number of awards. These scholarships may require a separate application, along with a personal or themed essay. In short, read those directions closely!
Available Scholarships by School
Many colleges and universities have specific scholarships available for their current and incoming students, so if you have a list of schools you're interested in, a simple Google search for your top college choices along with the search term "merit scholarships" is all you need. Because every scholarship's requirements are different, you have some work to do: get out there and find some scholarships!
Scholarships based on academic merit often have minimum SAT scores provided in their descriptions. Take note of any SAT score requirements you find during your research, then average all those scores. The result is your minimum SAT score goal.
Not sure which colleges you want to apply to yet? Here's a list to get you started:
University
SAT Score (or other requirements)
Scholarship Amount
Alfred State College
Must be a New York State resident
Up to $5,000 per year

American University
National Achievement or National Merit Finalist
$2,000 annually
Auburn University
A minimum 26-28 ACT or equivalent SAT score and a minimum 3.5 high school GPA for Alabama residents and a minimum 26-29 ACT or equivalent SAT score and a minimum 3.5 high school GPA for non-residents
$4,000 - tuition per year for four years for residents and $4000 - 18,000 per year for four years for non-residents
Baylor University
Invitation to Excellence: ACT 32 or SAT 1420
Distinguished Scholars: ACT 27-31 or SAT 1260-1410
Getterman Scholars: ACT 34, SAT 1500 or CLT 103+
Baylor2Baylor Medical: ACT 32 or SAT 1430 and possess 3.7 GPA and/or be top 5%
Baylor2Baylor Law:
ACT 30 or SAT 1360
Baylor2Baylor Seminary: ACT 27 or SAT 1280
$3,000 - $60,000 depending on the program
Beloit College
all applicants are automatically considered
up to $41,000 a year
Bluffton College
a 3.5 GPA (or higher) and a 24 ACT/1160 SAT (or higher)
valued at more than $138,800 over four years
Clemson University
National Merit Finalist
$2,500
Colorado State University
For residents: Your GPA is 4.0 or higher AND
You have demonstrated satisfactory completion of sequences of courses that meet the state of Colorado Higher Education Admissions Recommendations AND
You are admitted to CSU in a full-time, degree-seeking program on the main campus (not CSU Online) AND
You have submitted a complete application for admission by March 1 for fall semester or November 1 for spring semester
For Non-residents:
$2,000 per year, half paid each semester-fall/spring / A total of $40,000 – $10,000 ( $10,000 – $2,500 per year, half paid each semester-fall/spring)
Columbia College
depends on the GPA and ACT scores
Up to 100% off tuition
Earlham College
Achievement based
Variable
Hamline University
Automatically considered with application
Up to $30,000
Louisiana State University

High academic achievement
$500 per year to a full ride
Texas Tech University
Determined by test score and high school rank
Variable
University of Arizona
Depends on your GPA
$750-$32,000
University of Arkansas
National Merit Scholar
$10,000 annually
University of Indianapolis
Automatically considered with application
Up to 100% off tuition
University of Iowa
Automatically considered with application
up to $8500 annually
University of Mississippi
minimum 3.0 high school GPA and 23 ACT score for Mississippi residents or 25 ACT score for non-residents (or the SAT/SAT-R equivalent)
$1,000-$26,292
University of Missouri Perfect Score Scholarship
36 ACT or 1570-1600 SAT (superscores used)
100% tuition
and fees
+ $3,500
additional stipend
+ $10,940 one year
on-campus
housing and
dining
+ one-time
payments $2,000
for research/study
abroad $1,000 for
tech enrichment
University of New Mexico
Minimum 3.90 Cumulative GPA
Approximately $23,000 per year
University of Oregon
Depends on your GPA
$1,000 up to full tuition
University of Southern California
High academic achievement
Up to full tuition
University of Tennessee Volunteer Scholarship

1300-1600
$3,000-$9,000 annually
Wesleyan College
Depends on your GPA
Up to full tuition
The amount of scholarship money available varies widely between schools, but if you're looking at regular public and private colleges and universities, you're likely to see these kinds of numbers.
[Related: Average College Tuition in America Infographic]
Private Scholarships
There are also scholarships out there that aren't affiliated any specific academic institute (the Burger King James W. McLamore WHOPPER Scholarship for example), so once you've exhausted your college list, try casting a wider net. Here are just some of the scholarships with super simple applications that I discovered after a few minutes of online research:
1. DoSomething.org Easy Scholarships
On DoSomething.org you can enter to win college scholarships by participating in community service campaigns–some are even as simple as sending a tweet!
2. $2,000 No Essay Scholarship
Niche gives away a $2,000 scholarship every month. All you have to do is register for a free account and you are entered to win this scholarship.
3. $10,000 Unigo Scholarship
Answer Unigo's prompt in 250 words or less. One of their recent topics was "Surprise! You just got elected president. What's your first tweet?"
4. $1,000 Capex Easy Money Scholarship
Cappex provides an $1,000 scholarship every month. All you have to do is create a Cappex profile and tell them what you do in your free time to be eligible to win.
5. No Essay Smart Owl Scholarship
ScholarshipOwl is an online platform designed to match you with the award opportunities that fit your background, grades, lifestyle, and more–and you will be entered to win the "$7,000 No Essay Smart Owl Scholarship" just by making a free account on their website.
Searching for scholarships can be exhausting, so consider going to see your high school or college counselor to give you a leg up on the hunt.
How to Set Your SAT Goal Score
Having a specific score in mind will help you focus your SAT prep, but don't forget that this score is a minimum – ideally you want to be scoring a bit higher than this number on your practice tests (and the real thing, of course!).
Once you've got a strong SAT score under your belt, you can shift your focus to the scholarship applications themselves, and any essays and/or personal statements that may be lurking within.
Final Thoughts About a Good SAT Score for Scholarships
There are a lot of scholarships out there, and surprisingly enough, many of them have nothing to do with SAT scores. Like I mentioned at this beginning of this post, plenty of scholarships are based around other attributes such as overcoming adversity, your background, your summer job, or simply how well you write an essay. You probably have a lot more than just your SAT scores going for you, so you shouldn't sell yourself short by only looking into merit scholarships – they're just a good place to start!
Well, Magooshers, that's all for now. Before you go any further, make sure to check out our article on the 3 Best Places to Look For College Scholarships. Happy scholarship hunting!
Need more help?
With Magoosh SAT, you can choose between a live cohorted class with an instructor (which includes all our lessons and practice questions) or access to the self-study option by itself.