No one cares how much you know, until they know how much you care. ―Theodore Roosevelt
Each month, I have the pleasure of aggregating a lot of Magoosh stoke. As I cull through the messages, ratings, emails, tweets, and updates, collecting individual euphorions to show our month of euphoria, themes surface.
This month, the theme is best summed up by President Roosevelt. The Magoosh team flexed it's most important muscle to help our students succeed. We were empathetic! 🙂
Stoke—By the Numbers
We saw some growth in April with about 300 more questions than last month. This is just the beginning of our expected rise in questions through October. Chris Swimmer, an ex-full time Magoosher who now is on our Remote Help Team, summed up where we are nicely:
"This is the exciting part of the year where you seriously feel like you're strapped to a rocket ship being blasted into orbit."
The jets have ignited, and we feel the rumble and power of the rocket ship, ready to launch into space.
Here we come thermosphere of test prep!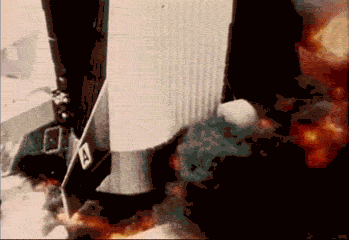 Student Stoke
Anytime I can begin Student Stoke with gorilla-like chest beating, I'm going to do it!
For those who don't know Chris Lele, he is our resident logophile. As Mike puts it, Magoosh's collective vocabulary knowledge drops about 80% when he is not in the office. 🙂
Lead with Empathy, End with Stoke
Nothing seems more important when it comes to teaching. Heck! Nothing is more important than empathy when it comes to being a good person. The ability to enter into another person's experience was a profound moment in human history—a crucial step in our ability to plan, coordinate, and coexist.
I am so proud of our team. Every Magoosher empathizes with our students. For this reason, I believe, our students are so stoked on Magoosh. They know we care, so they trust our recommendations. 🙂
Being Awesome and Spreading the Love
This is another monthly theme that seems to persist—being awesome and spreading love and joy. I bet you didn't think that a test prep company could do that. 🙂
Mike is a Rock Star
Mike is everywhere on the Internet. He is constantly writing blog articles, responding to comments, and answering questions on forums. Actually, for the 13 consecutive month, and the 22nd month overall, he was a member-of-the-month on GMAT Club in April. That's why students think he is a rockstar.
Magoosh—A Friend, Colleague, Coach, and More
When I left the classroom to join Magoosh, one thing I was worried about was losing the one-on-one interaction with students. I enjoyed mentoring and watching them progress. But I've been pleasantly surprised to find that my fear was unfounded. At Magoosh, we get to be a friend, coach, colleague, peer, and teacher to our students in a very real way.
Promptness Leads to Stoke
We are lucky to have such an awesome Remote Help Team. Thank you Chris, Jonathan, and Carolyn for being so prompt and quick with your responses! Our students appreciate your constant diligence and commitment.
We are excited to have new tutors join the team too. Welcome Evan, Michael, Amy, and Andrew! Let's spread the stoke!
Magoosh Blogs are a Treasure
We have a cornucopia of content, tips, strategies, study plans, and information spread across multiple blogs. Our flagship blogs are for the GRE and GMAT, but we are constantly adding articles to our SAT and TOEFL blogs to help students.
Exploring @MagooshGMAT to review probability for some summer #tutoring. As always, great resources!

— Sooner Tutor (@TheSoonerTutor) April 1, 2014
Staying Stoked
Magoosh is not an exception to the rule—things still can go ary. We have Magoosh pens that we send to students who write student posts or to students who are awesome. We recently sent a student some pens, but they didn't arrive. Only the empty, torn envelope survived the trip to India.
We found out about it over Twitter and you can see the interaction with the student below.
This interaction illustrates two important points about helping students and customers.
First, keep it lighthearted. This doesn't mean trivialize what's happened. Rather, look for ways to ease the pain. Second, if you want to make things lighthearted, you have to empathize with the person. In this case, we thought about how it must have felt to receive an empty envelope. We didn't hesitate to send more pens (in a more robust envelope), and we found a way to lighten the mood. A perfect recipe for stoke! 🙂
It's moments like this that make me stoked about Magoosh and stoked to work with our students! They truly are awesome!
Be excellent to the universe, good people! Keep the happiness high and the stoke level at eleven.