Test day can be very stressful, so it helps to know beforehand exactly what to expect. So, you've studied hard, you've read our last minute TOEFL tips, you feel confident about your English skills and taken a few TOEFL practice tests, and you've arranged for your test scores to be sent to universities. Now, here's what to expect on the day of your exam! 🙂
The TOEFL Testing Center
Many testing centers are computer labs in schools or universities. You need to be at the testing center about half an hour early to fill out paperwork and get settled, but plan on arriving even a little before that so you have time to figure out where to go. There is usually a security screening of some type (so that people don't bring in recording devices). There will be a second room where you can keep anything that isn't allowed into the testing site, which brings me to my next topic.
What to Bring
Almost everything will be provided for you at the testing center. You do need your registration number, two original forms of picture ID (driver's license, national/international passport). You don't need paper or a pencil, as those will be provided. Bring some water and a snack, but leave everything else at home, unless you're comfortable with leaving it in the (possibly unsecured) storage area throughout the test.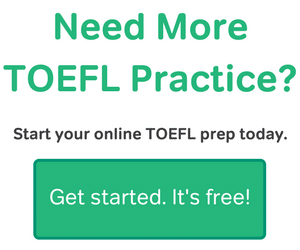 We highly recommend that the snack (or drink) you bring have a bit of sugar in it. Studies have shown that lemonade or something sweet can help your test-taking ability and stop you from getting tired. But don't drink a liter of coca-cola! Too much sugar has the opposite effect, and makes it harder to think clearly.
During the Test
During the test, you'll be given paper for taking notes, a pencil, and headphones with an attached microphone with which to record your answers. ETS says that the headphones are noise-canceling, but we've never seen that—don't expect it. There will be a mandatory 10-minute break about halfway through (after the reading and listening sections), just enough time to have your snack and stretch a little. You can take breaks at any time during the test, but the clock will not stop, so only do that for a real emergency. If you do need to get up, raise your hand and wait for somebody who works at the test center to come to you.
After the Test
When you're finished, you can submit your answers, collect your belongings, and go. You can even go early if you want, but why would you do that? Unless you somehow managed to break your leg during the test and require medical attention, use all the time you're given.
Learn more
Lucas took the TOEFL himself not too long ago and wrote a helpful post about his experiences. Check it out for some helpful advice about scoring and time management.