Passing the TOEFL is one of the most important steps on the road to your English language university. But what happens after you arrive? While the TOEFL measures your English ability in many different ways, it's not possible for one exam to expose you to every aspect of real academic English.
In this series of posts, we'll look at academic English as you'll actually use it when you get to campus. English on campus is harder than TOEFL English in some ways. But in other ways, it can actually be easier. This first post will focus on reading. Let's look at the way reading is done at a real English-language school.
Perhaps the biggest difference between TOEFL Reading and academic reading on campus is time. On the TOEFL, you have a limited amount of time to read a passage. In actual university classes, you are almost always assigned reading for homework, outside of class. You can read and reread something as many times as you need to. (Or at least as many times as your schedule allows.)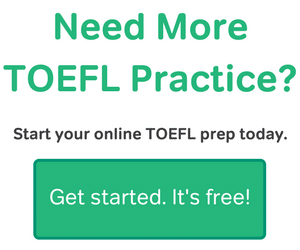 In your actual courses, you'll also find that the readings are sometimes simpler than the ones on the TOEFL. The TOEFL does accurately reflect the reading level of first year university class textbooks. But professors will often ask you to find other things to read. You will have chances to choose your own readings for some assignments. Most students choose their own readings from popular, non-scholarly sources that are not as complicated as the TOEFL.
There are other professors who will assign readings that are much harder than the average first-year textbook. You could be asked to read peer-reviewed articles from scholarly journals. In an English course, you could be asked to read a famous work of literature that has very complicated writing. Some professors will even ask you to read things they themselves have written. And professors tend to use very high-level vocabulary and complicated sentences.
One of your greatest resources for building reading skills won't be your professors or reading materials. It will be your classmates. You'll be able to form study groups with your fellow students, so that you can read things with other people. You may be surprised at just how much you and your classmates can figure out together, even when a reading passage is very difficult.
Last but not least, you'll have support from university staff. Many (but not all!) professors are very willing to help students who ask for extra help with reading. And universities have tutoring centers designed to help both native English speakers and ESL students with reading comprehension.
Preparing for and passing the TOEFL is a great way to get a look at academic English. It gives you a small preview of academic life, and helps you prepare for it. "Real" academic life is more complicated, but it's also a lot more fun. Be ready to read more deeply in your second language than you have before. And look forward to sharing your reading experiences with others.