Reading native English can be a scary, demotivating experience. But even if it's not easy, it's one of the best forms of English practice. Reading real English, at an advanced level, helps improve both your grammar and your vocabulary, and it teaches you the actual usage of the language. If you learn only by translating, the usage will often be lost. You need to know how a word is used, not just what it means, to correctly include it in your writing or conversation. Here are some tips to improve your English reading skills.
Use an English-only Dictionary
Translation is your enemy. In order to communicate in English well, you need to use only English. If you are reading this now, you probably understand this! Otherwise, you would be reading a TOEFL blog in your own language, not English.
Use a learner's dictionary—created specifically for students studying English as a foreign language—to explain advanced English vocabulary with more common words and phrases, instead of using translation into another language.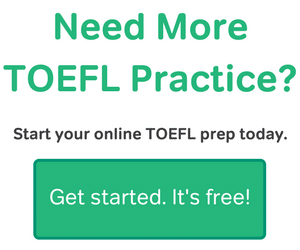 None of the English learner's dictionaries online are personal favorites of mine, but the big names are all pretty good, including Longman (I mention this in the video above). Here are some links to free online learner's dictionaries:
Read at the right English level
My rule of thumb is that you should feel you understand about 75% of what you read. Now, I don't mean 75% of the words, but 75% of the ideas. This percentage is without a dictionary. Then, by using a dictionary and researching the 25% of the ideas or sentences you had trouble with, you should be able to reach 90%-100% understanding. If you are reading something that, without a dictionary or other research, you would understand less than 25% of, then it is probably too difficult to stay interested in. You can still learn a lot like that, but it helps to be interested in what you read!
Active reading
Staying interested is important because if you're not interested, you won't really remember anything. In order to learn the most possible from your reading, you want to be thinking about it, so you remember what you read later. The less you think about it, the less you will learn.
Active reading means staying interested and engaged with the text. If you have trouble with this, try a few strategies to increase your engagement:
Take notes as you read. Only note the main ideas.
After each paragraph, summarize what it said. Speak out loud, or take notes.
Ask questions for the author after each paragraph.
Predict what will be in the next paragraph after finishing one.
Summarize how paragraphs are connected. How is paragraph two related to paragraph one? Is it an example? Is it a cause-and-effect relationship? Etc.
The more you ask questions and involve your own thoughts and ideas, the better!
Most Popular Resources