It's important to understand the TOEFL format before you study for the test. Is the TOEFL test on computer, or is it paper-based?
Is the TOEFL test on a computer, or paper-based? Actually, that isn't an "either-or" question.
The TOEFL test is on a computer… if you take the TOEFL iBT. But the TOEFL test can also be taken on paper, for those who take the TOEFL PBT.
Which one will you take? Quite a few TOEFL students have the TOEFL iBT as their only option. However, there are 31 countries where only the paper-based TOEFL PBT is offered. Then there are another 20 countries where you can choose between the taking the TOEFL iBT on a computer and taking the non-computerized TOEFL PBT. In those countries, how much choice you have may depend on your exact location. To see the computer or paper TOEFL options in your country, check out my post on where you can take the TOEFL PBT.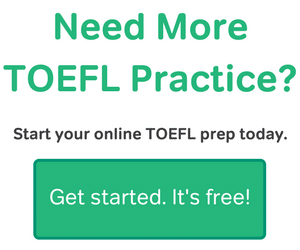 Is the TOEFL the same, on a computer or off?
The answer to that question is a definite "no." The TOEFL PBT has a very different format from the iBT version you take on a computer.
While both the computerized TOEFL and the paper one have Reading and Listening sections, the tests take different approaches to these skills. TOEFL iBT Reading passages and Listening audio tracks are longer than the ones on the PBT. And the TOEFL PBT has fewer question types in Reading and Listening.
The writing assessments for these two tests are quite different as well. The TOEFL Writing section on the iBT requires two essays. One of those essays includes some computer-based audio. The TOEFL PBT just requires one essay, similar to the iBT's Independent essay. But the differences don't end there. The TOEFL PBT's writing section is actually called the TOEFL Structure and Written Expression section. This non-computer TOEFL section includes questions related to grammar. Grammar is not tested directly in this way on the TOEFL iBT.
Finally, you only take a speaking test if you take the TOEFL on a computer. The paper version of this test has no TOEFL Speaking section.
To directly compare these tests, check out Magoosh's section descriptions for TOEFL Reading, TOEFL Listening, TOEFL Speaking, and TOEFL Writing. Then look at ETS's official TOEFL PBT practice questions for comparison.
Remember, the TOEFL iBT is NOT the same thing as the TOEFL Computer Based Test!
The TOEFL iBT is taken on a computer. But this exam is different from the TOEFL CBT. The CBT, or TOEFL Computer Based Test, was the first computerized version of the TOEFL. The TOEFL CBT had a different score range and somewhat different content from the iBT. This type of TOEFL exam was discontinued years ago. Unfortunately, some universities and test-prep websites still have a lot of outdated information on the CBT. (On the official TOEFL website, ETS gives the history of the TOEFL CBT. It's an interesting read!)