This post is for our students taking the TOEFL in Malaysia! Last week, I wrote a post about taking the TOEFL in India. If you have a country in mind that you'd like to see a post about, let me know in the comments below. 🙂
According to the US Embassy, there are currently 6,735 Malaysian students studying in the US. This week, we'll discuss how TOEFL students in Malaysia perform on the exam.
Resources for Students Taking the TOEFL in Malaysia
First, here are some resources to help you get started. Below is a list of helpful websites to aid you in both your TOEFL prep and the admissions process.
TOEFL Test Dates and Test Center Locations in Malaysia
Malaysian-American Commission on Educational Exchange
EducationUSA Advising Centers in Malaysia (and their Facebook page!)
TOEFL Go Anywhere
And now, some information about TOEFL scores. 🙂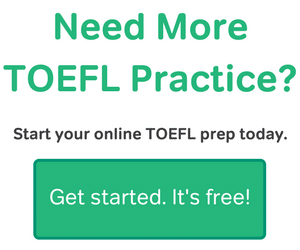 Average TOEFL iBT Scores in Malaysia
The average overall score in Malaysia is 89. Here are the averages for each section:
Reading = 22
Listening = 23
Speaking = 22
Writing = 23
Worldwide Averages
The TOEFL score percentiles in Table 2 on page 5 of this ETS research tell us about the score averages for everyone who takes the exam — that is, all the TOEFL test-takers in the world! And what is the average score? It's about an 84. The breakdown is as follows:
Reading = 21-22
Listening = 21
Speaking = 20-22
Writing = 21-22
In general, this means that TOEFL scores in Malaysia are higher than average, however, what does really this tell us?
The Importance of Average Scores
As ETS mentions in their report on page 13, this data is helpful when it comes to comparing the TOEFL performance of a given test-taker with the scores of other test-takers within the same nation. This means that, if you live in Malaysia, this information is useful in comparing your performance to that of your peers, and seeing how you stack up.
If you don't live in Malaysia, this data is not super useful for you — that's because comparing data country to country doesn't take into account the differences between each country, including the number of test takes, how many hours students spend studying English in school, and much more.
So for our Malaysian students, this information can be used as another data point in the search for YOUR perfect score. And how can you figure out what that score is? These posts can help:
TOEFL Scores for Top Universities
What is a Good TOEFL Score?