China is not just the world's biggest country. It's also the home to the world's largest and fastest growing economy. And it's the largest market for ESL instruction. Not only that, but China stands alongside India as the biggest source of international students coming to the English speaking world. This means that China has a uniquely high demand for good TOEFL prep.
Benefits of Preparing for the TOEFL in China
There are a lot of benefits to prepping for the TOEFL exam in China. With its booming economy and global connections, China offers a thriving network of test prep academies—certainly with better selection than you'd find in a nation like America. There's no shortage of schools to choose from if you want an intensive TOEFL prep classroom experience, or one-on-one tutoring.
The Chinese market even offers better access to online tutoring; many locally-run Chinese e-learning companies offer online TOEFL help, with Chinese-language tutorials and support. (To give just one example, I know that Kukuspeak does this.) The major test prep textbook companies even offer bilingual TOEFL practice and strategy books just for native Mandarin Speakers. In fact, ETS itself offers Chinese-language versions of its official TOEFL prep materials.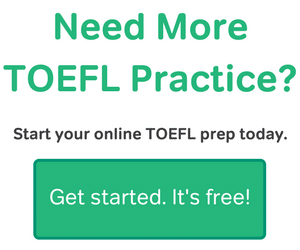 If you're preparing for the TOEFL in China, the size and competitiveness of the Chinese TOEFL prep scene is one of your greatest assets. You're in a very customer-driven market, with wonderful offerings and great deals. But choosing schools, tutors, and resources wisely will also be one of your greatest challenges.
Pitfalls of China's TOEFL Test Prep Market
One huge pitfall you'll want to avoid is cheating—not on the part of yourself or your classmates, but on the part of some TOEFL academies. To compete for students in China's booming exam prep market, many TOEFL academies try to lure students in by promising them a certain minimum score. They then deliver that promised score by getting permission from ETS to administer the TOEFL to their own students… and fraudulently modifying student scores. This is a problem for a variety of tests, so much so that China has recently experienced national problems with dishonest SAT score reporting.
This kind of school-level cheating ultimately hurts you. Even if you didn't cheat and didn't know that your school cheated, your admission to university could be rejected if your school gets caught. And of course, if your TOEFL scores aren't truly where they need to be, you could fail out of your studies upon arrival. I've seen this happen to some international students who fell victim to score doctoring in China and other countries.
Another challenge you'll face is inconsistent quality of materials and instruction. The Chinese market offers the best TOEFL support in the world… and probably some of the worst. Choose your tutors, schools, and books carefully, checking for online reviews and sticking with large, reputable schools and publishing companies. Above all, don't assume that a native speaking teacher is inherently better than a non-native speaker. Western and Chinese teachers alike can be great or not-so-good. Check out the reputation and teaching quality of any local TOEFL instructor carefully.
Above all, make sure you look for chances at English immersion within China. Although China's not a native English speaking country, it is a hub of global business, with a huge social scene for foreigners. It's very likely that there are English-Chinese language exchanges and other chances to meet up with foreigners and speak English, in or near your city. (You can find some of these events through Meetup.com's pages for English and ESL.)
Seek out real English interaction as well as quality TOEFL preparation. Chances to speak English locally may be more common than you think, and these authentic experiences will give you an edge in both the TOEFL and your future studies abroad.