I've taught for a number of English language academies, ESL programs and Intensive English Programs here in the USA. One of the biggest complaints I've gotten from students here at home is that English language programs in the US don't focus enough on the TOEFL, or don't focus on it at all. While there are some TOEFL prep academies and programs available in the USA, they're far and few between. Especially compared to countries like China, South Korea, or India, where test prep schools are much more plentiful.
Still, studying English in the US gives you a lot of unique opportunities to study for the TOEFL, in ways that you couldn't in your home country.
Among other things, it's much easier to find a native English speaking TOEFL tutor in the USA than it is in many foreign countries. And American test prep tutors often charge lower rates in the States than they would overseas. You can use services like Wyzant and Care.com to find a tutor that's right for you. And sometimes you can even get free tutoring through local nonprofit and state-run services.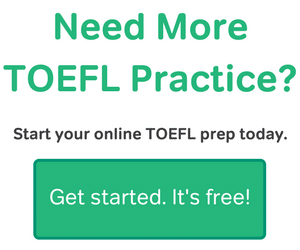 You also have a chance to learn about American academics—the area of English the TOEFL focuses on—from people who have actually experienced education in America. You can form TOEFL and English study groups with people who have already studied at American high schools or universities. And you'll have chances to ask co-workers, friends, and even actual university students and teachers for their thoughts on what American academic English is, and how to learn it.
Above all, America offers countless ways to connect your TOEFL study to real-world experience. In this way, the U.S. is the absolute best place to study for the TOEFL. The TOEFL uses United States English almost exclusively. This means that if you sit in on a lecture at a local school (as a student, or as a guest who just wants to listen), the lecture will sound a lot like a TOEFL lecture. The magazines and newspapers you read will use the same American languages as the readings in the TOEFL. Your conversations will have the American sound of TOEFL conversations. And to speak understandably, you'll already be trying to use the American-style English that's encouraged on the TOEFL.
So go the library and read American English books. Talk to your American English speaking neighbors. Listen to the local radio deejays as they use American style English. And then go over your actual TOEFL prep materials. How similar are the materials to the real American English you're surrounded by? Make connections to your TOEFL study experience and your life experiences in America. This can powerfully boost your understanding of the exam, and really help you on test day.