You probably started learning English in a course with other students and a teacher. Eventually, you graduated from college, stopped going to school, or decided you didn't have the time or money for lessons anymore, so you started studying on your own. Or maybe you're still in a class, but that class focuses on general English, not the academic English you need on the TOEFL. For one reason or another, most people will at some point consider hiring a private tutor to help them prepare for the TOEFL. A private tutor can be a huge help; the right tutor can do wonders for your TOEFL score, study skills, and general English fluency. But choosing the right tutor can be a baffling experience—unless you're in a major city, there will not be a huge selection, and there probably won't be any centralized resource for connecting tutors with students. I hope that this article will help guide you as you search for the tutor that matches your needs.
Price
The hourly rate for a private tutor can be as little as $10-15 per hour all the way up to $70 or more. This wide range is mainly due to the experience that a tutor has. Most tutors who charge less than $20 per hour (in the US) for freelance work probably don't have too much experience with the TOEFL. On the other hand, a tutor who charges $50 or more for freelance work probably has a decade or two of experience. Most freelance tutors that I know charge somewhere between $25 and $40 per hour
Experience
What are you paying for at each price level? Well, at the lower end of the scale, you're probably looking at a tutor who may have a year or two of experience but probably doesn't have a teaching certificate. They will probably work out of the Official Guide or another widely-available test prep book. A tutor at the high end of the pay scale, on the other hand, will have lots of materials that s/he has collected and probably has arranged in a tried-and-true progression. With that much experience, s/he will have dealt with just about every kind of student and answered practically every question that can be asked. In between these two extremes, of course, there are infinite tutors, each with their own teaching style, experiences, and materials.
Interview
You may feel like you need to leap for the higher end of the pay scale in order to get a tutor who will help you rather than hurting you, but this isn't necessarily the case. It really depends on your learning style and what kind of a score increase you're aiming for. If you're highly self-motivated and have a low advanced or higher level of English, a relatively inexperienced tutor may be perfectly fine for you, and you may be able to save yourself hundreds—even thousands—of dollars by realizing that. If, however, you have a lot of trouble motivating yourself and have a lot of progress to make in a short period of time,  you may need the support that comes with a highly experienced tutor who's seen it all before.
Before you book with any tutor, see if you can have a 10 or 15-minute phone consultation. Personally, I would never book a tutor who wouldn't agree to this; it gives the tutor a chance to briefly assess your English abilities and find out more about your goals, and it gives you a chance to get detailed information about the tutor's teaching style, experience, and availability. A phone consultation is the only way to be sure that you and your tutor have the same expectations and will work well together, so be sure you do this before signing a contract.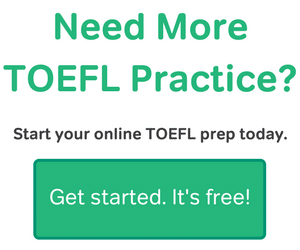 Recommendations
Online TOEFL Tutors:
Corey from TOEFL Professor

– Corey is an experienced TOEFL tutor who also teaches online. He teaches all sections of the TOEFL exam and is an excellent choice for the student who needs general help in improving his or her TOEFL score. Corey's prices are reasonable and he has many testimonials from students who have achieved high TOEFL scores.
Steve Ford of Private English Portal

– Steve is another excellent online TOEFL teacher, with a long list of students who have reached their goal TOEFL score.  He does both TOEFL and IELTS preparation and charges a premium for his teaching services. If you need a high TOEFL score for graduate school, and you are willing to pay a premium, then Steve is a great choice.
Live Lingua TOEFL

– We chose to include LiveLingua because it offers a completely free TOEFL trial lesson before committing to a set of lessons. More importantly, LiveLingua offers several TOEFL tutors for your needs, all of whom have experience in helping students reach high scores.
Online Marketplaces:
If you need a TOEFL tutor, but you have a small budget, then iTalki and Verbling are two great online marketplaces to find an affordable TOEFL tutor. You can find some TOEFL tutors for as little as 10 USD per hour. However, when choosing a tutor, remember our tips from above. You want to make sure the tutor you choose is experienced and that he or she will help you earn a high score. Before committing to a tutor, ask for testimonials from previous students.
In-person Tutor:
Wyzant.com – If you live in the USA and prefer an in-person tutor, then we recommend finding an experienced TOEFL tutor through Wyzant.com. Wyzant is an online marketplace where you can find tutors for many subjects, including TOEFL. Wyzant allows you to search for a tutor based on your location and budget. It also has a rating system for tutors, so you can choose an experienced, well-reviewed tutor for your lessons.
Most Popular Resources