When it comes to preparing for the TOEFL, there are essentially two things you need to do to ace the exam:
Improve your English

Learn the format of the TOEFL, and study, study, study!
We can help a lot with #2–we have tons of free resources available on this blog (like our free, 150+ page iBT ebook, or our TOEFL practice test, our hundreds of blog posts about the TOEFL, including our TOEFL Listening tips and tricks, and our comprehensive TOEFL prep materials).
However, when it comes to #1–improving your English–you might need to turn to outside materials. Since we love to study online, here are our favorite resources to help you improve your English for the TOEFL — both for beginners and advanced students — all online, so you can access them anywhere you have an internet connection!

1. Language Learning Websites and Mobile Apps
There are quite a few English language learning sites out there (just take a look in the app store!), but today I'm only going to talk about one. I recently tried out Mango Languages' language-learning tools, and I think it would be an excellent tool for TOEFL students who are trying to improve their English. Mango offers English resources in 18 different languages — Arabic, Chinese, Korean, Portuguese, Russian, the list goes on. If you're a beginner, learning English in your native language will help you build a solid foundation.
Another feature that is particularly helpful for TOEFL students: a voice comparison tool. With this tool, you can record yourself speaking and then match it up with the narrator's voice. This will help you work on your pronunciation for the speaking section of the TOEFL. 🙂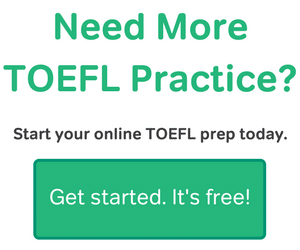 Plus, if you live in the US or Canada, you can access Mango for free at many public libraries – you can find a library near you here, and you can learn more about Mango on their blog. 🙂
2. Podcasts
Podcasts are fun, easily accessible, and totally worth your time. Listening to podcasts can help you improve your listening skills (of course!), but they'll also help you expand your vocabulary and comprehension, which will translate to improved scores on every section of the exam.
For advanced students of English, we like This American Life. In this podcast, you'll hear interesting stories from around the US, which will help expose you to different regional accents. And, it's just really interesting. Trust us. 🙂
For intermediate and beginner students, we like Breaking News English. This podcast gives you short listenings on topical news and entertainment events.
3. Documentaries
Documentaries are a fun way to learn about academic topics (which you'll have to read about, listen to, and speak about on the TOEFL). It's like reading a book and learning new information, but instead, you're watching TV! Our TOEFL expert Lucas has three suggestions here. In particular, he is very fond of How We Got to Now. This short series describes inventors and events that helped shape the modern world. Each of the episodes are similar to TOEFL reading passages, so they're particularly useful and relevant if you're trying to improve your English before your exam.
Photo by PBS ONLINE®