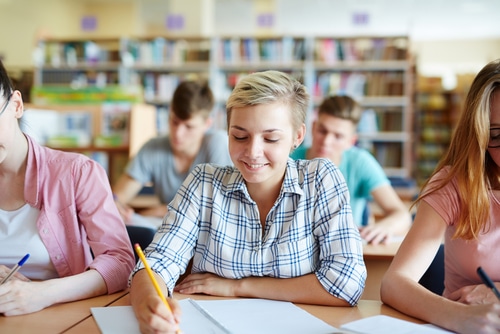 One of the best ways to practice for the AP US History exam is by trying out sample questions. Sample APUSH DBQ questions help you get prepared to write a killer essay on test day.
APUSH DBQ Questions: An Overview
The APUSH DBQ consists of one essay question. You will have 55 minutes to complete the essay. The essay is graded on a 7-point rubric and will count for 25% of your overall exam score.
You will be presented with an essay question, followed by a series of documents (typically 7) related to the theme of the question. These documents can be any combination of primary and secondary source texts, maps, photographs, political cartoons, or other artwork.
You will need to use information from the documents as well as your outside knowledge to construct an essay response to the question. Your response should be a persuasive essay and must include a thesis statement backed by evidence.
Official APUSH DBQ Questions
The College Board has released several sample DBQs. These come from the official practice test and previous real exams. These official APUSH DBQ questions are the best, most reliable source to help you prepare for what to expect on test day. Read through these and try your hand at writing (or at least outlining) the essays. Some of them even come with scoring guides and sample student responses to help you see how you would have done if you'd written this essay for the real exam.
Here are links to the official APUSH DBQ questions:
DBQ 1
Topic: Imperialism in the late 19th and early 20th centuries
Source: Official AP US History Practice Test (p.32-35)
DBQ 2
Topic: American Revolution
Source: 2017 AP US History Exam (p. 7-11)
DBQ 3
Topic: Women's Rights Movement
Source: 2016 AP US History Exam (p. 6-11)
Related resources: Scoring guide and sample student responses
DBQ 4
Topic: New Conservatism
Source: 2015 AP US History Exam (p. 6-10)
Related resources: Scoring guide and sample student responses
Unofficial APUSH DBQ Questions
There are several sources of unofficial DBQ questions. While these are less reliable than the official questions from College Board, they can provide good practice in interpreting and building an argument around documents.
Barron's has a single free full-length practice test available on their website, which includes the DBQ. You can take the whole exam, or if you're only interested in the DBQ, you can click on "Jump to Question" once inside the exam and select the DBQ. The topic is the Progressive Movement.
You can also find loads of good quality teacher-created practice APUSH DBQ questions online. For example, Mr. Bryant's AP US History has a folder of TONS of DBQS you can download as Word documents. They are organized by time period/topic.
High quality test prep books from major publishers also include practice tests, including DBQs. Make sure you choose a book from 2015 or later to ensure the material is updated for the latest version of the APUSH exam.
More APUSH DBQ Resources
Check out these other great resources from Magoosh to help you prepare to shine on your APUSH DBQ questions: