6 Perfect Snacks for the ACT Exam
In this episode of TuesdACT, we're talking about the most enjoyable part of taking the ACT: the food. Sadly, there's not some unlimited pancake buffet offered at the break, and you'll have to pack your snacks from home, but that Clif Bar is going to taste like a dream when you're tired and hungry. Promise!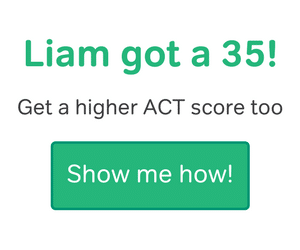 Here are my choices for the best snacks for optimal test performance:
Energy bar or trail mix: Nuts and seeds have Omega-3 fatty acids, which help improve cognitive function and prevent fatigue. The sugars in dried fruit provide quick energy for launching into the next section!
Sliced apples and peanut butter: The protein and fiber will fill you up.
Banana: Easy to eat fast and the fiber will help you feel full.
Cinnamon gum: May not satiate those hunger cravings, but did you know that cinnamon helps make you alert and improve mental processing? Studies have shown that chewing a piece of gum while testing can help improve performance.
Beef jerky: High in protein, which, again, will help prevent a crash.
Water: Not exactly a snack, but dehydration can make you tired and foggy, so it's essential that you have a bottle at your desk. Pro tip: add some electrolyte tabs for an added boost.
Worst Snacks for the ACT Exam
soda
candy
coffee, energy drinks, or 5-Hour Energy unless it's part of your daily routine (you sure don't need those jitters or extra bathroom breaks)
Popular Resources