GMAT accommodations are available for test-takers with disabilities. GMAT extended time is one of the most common offerings, but other assistance is available too. Read on to learn more about GMAT accommodations.
How many different GMAT accommodations are there? Can I get a complete list?
There's more to GMAT accommodations than just GMAT extended time. There are many possible accommodations for test-takers that qualify. You can find all of the necessary details here: Accommodations for Test Takers with Disabilities. Other accommodations supported by the Graduate Management Admissions Council (GMAC), the makers of the test, include:
Additional testing time (all tests are timed)
Additional or extended rest breaks
Allowance of a medical device in the testing rooms
A trackball mouse
A reader who can read the test items to the test-taker and record test-taker responses
A recorder to record test-taker responses
Enlarged font on the PC monitor
A sign language interpreter
How do I apply for GMAT accommodations?
The steps for applying for GMAT accommodations can be found on the GMAT's official "Register as a Test-Taker with Disabilities" page.
In brief, here is what you need to do.
Create a GMAT account on MBA.com.
Fill out the GMAT Exam Accommodations Request Form, which is accessible through the GMAT Supplement for test-takers with disabilities.
Attach documentation for any of the following disability types:
Attention Deficit/Hyperactivity Disorder
Learning and Cognitive Disabilities
Physical and Systemic Disabilities
Psychological Disabilities
Sensory Disabilities (Vision and Hearing)
Send completed forms and documentation to Pearson VUE by fax or post (see the contact info below). Confirmation that you've applied will come in four days to the email address associated with your GMAT account, and an eligibility decision will be made and emailed to you within a month.
If they approve your request for accommodations, you will then be able to schedule accommodated testing. It is not possible to schedule accommodated testing before receiving approval for GMAT accommodations. Therefore, we suggest that you not book a testing appointment until you receive a decision regarding your accommodation request.
Additional Tips on Applying for GMAT Extended Time or other GMAT Accommodations
Download the GMAT Handbook. This contains not just information about testing accommodaitons, but also many other things you neeed to know as you register for the test and get ready for test day.
Download the Supplement for Test Takers with Disabilities. As mentioned above, this supplement contains the forms you need to fill out, and is full of additional helpful tips and instructions.
Collect documentation of your disability from a doctor. Make sure to review the Guidelines for Documentation in the Supplement, and consider sharing those guidelines with your doctor as part of the consultation.
Make sure to leave six to eight weeks for approval. (Apply early, in other words!)
Contact Info for GMAT Accommodations
Test-takers with disabilities should send completed a GMAT Test Accommodations Request Form and all supporting documentation to Pearson VUE at one of the following addresses:
Fax:
+1 (952) 681-3681
Mail / Courier Service:
Pearson VUE
Attention: GMAT Disability Services
5601 Green Valley Drive, Ste. 220
Bloomington, MN 55437
USA
How to use Magoosh to simulate GMAT extended time
You can add GMAT extended time to your Magoosh GMAT practice tests. First go to the Account tab on the upper right and choose Profile: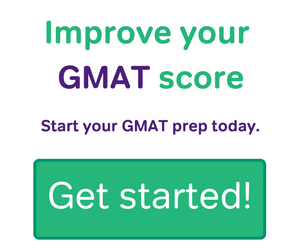 Then select the green Edit Account Information button on the bottom left:
And then select the time change you want:
NOTE: Special thanks to Matt Slayton in Magoosh Student Help for doing the initial research and assisting with the writing.