Because the TOEFL is a test of how well you can communicate at an English-only university, you may expect that all native English speakers would get perfect scores on the test. But the truth is that sometimes, they don't. It depends on the person—in particular, it depends on whether they already know the TOEFL.
Teachers like me should get perfect scores if they want to. But I've taken the test before, and I've taught it for years, so there is no part of the test that will cause problems for me. If you already know the format of the TOEFL well, then 120 is reasonable.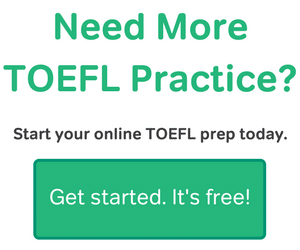 But if you don't have experience with the TOEFL before you take the test, even if you are a native speaker, you might lose points because you're surprised by some aspects of the test. This native English teacher, for example, took the test and scored a 105. He admits that he didn't know anything about the test before he took it, and that is almost certainly why his score wasn't above 110.
For example, let's consider the listening section. In order to get a perfect score, you need to remember a lot of detail from the conversations and lectures, so you can answer questions. What if you stop paying attention for a moment? You can miss a detail that is in a question later, and lose points.
Or consider the speaking section: you have to answer very specific types of questions, and have only 45 or 60 seconds to answer. If you don't structure your answer, and don't know what to expect, it's easy to miss key information because the timer finishes too soon. I recently spoke with a native speaker who took the TOEFL and scored a 24 on the speaking section. With some preparation, he would certainly score higher—likely 28 to 30.
Native Speakers Rarely Need the TOEFL
The TOEFL is specifically for people who speak English as a foreign language. In general, universities require it from people who cannot prove that they speak English natively. But sometimes, it does happen. Even if you grow up speaking English, if you don't attend a high school or university that speaks only English, and you're not a U.S., U.K., or Australian citizen, then you might still be asked for TOEFL scores.
But if you have any proof that you speak English as a native language, contact universities that you are applying to—you probably won't need to take the TOEFL.
But if you do need a TOEFL score, and you are a native speaker, you would probably score over 100 with no preparation. That's enough for some universities, but not all—especially if they have requirements for specific sections. Some programs, for example, require 26+ on the speaking section. So even if you are a very advanced English speaker, I recommend preparing for the test. Learn the format before you take it, so you don't lose points just because you are surprised.