When that clock starts ticking down from :15 or :30 on the TOEFL speaking section, a lot of test-takers panic. Maybe they hadn't considered this particular question before. Maybe they didn't fully understand the question. Maybe they've been asked for an opinion (independent tasks, anyone?) about an issue on which they just don't have an opinion.
Don't worry! We're here to make sure that you aren't among the students still frozen, pencil in hand, when that timer hits :00. With the right kind of preparation, enough practice, and the ability to expect the unexpected, you can get the top score you want, even under pressure!
Step 1 (applies to Independent Speaking only): Pick a side, any side.
In TOEFL Independent Speaking, one common fear among students is that they'll choose the wrong answer. Guess what? There is no wrong answer! There are only answers that don't address the prompt. If an independent-task prompt is asking you about your favorite thing about your city, and the first thing that comes to mind is that one ice-cream parlor downtown, don't dismiss it. If you elaborate enough on why it's your favorite thing about your city, you've responded to the prompt.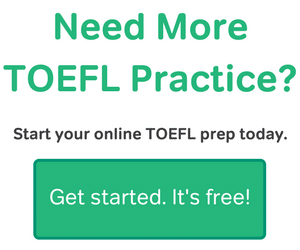 Step 2: Prepare your first sentence in advance.
Of course, you can't predict exactly what your prompts will be on test day. However, the TOEFL is a standardized test: its prompts will always follow the same general format. As you practice for the test, create a general introductory sentence that will allow you to start speaking easily as soon as the timer goes off. Most test-takers get stuck on the first sentence and waste precious time hesitating. Not you! You'll be in a much better position, even if you have something as simple as "I prefer x, for several reasons" ready to go.
Step 3: Wait for the magic :05.
A significant number of test-takers will get caught at the end of their response mid-sentence. This isn't good, for a number of reasons, but primarily because it signals to the graders that you didn't get to give your full response. To ensure that you give a polished, complete-sounding response, practice concluding in five seconds or less. Then, when you see the clock hit 0:05, immediately go into your conclusion—or at least make sure you finish your current sentence!
On the TOEFL, it's the little things that add up to a high score. By practicing strategically, you'll give yourself the best chance to show off your level of English to the graders. It's true that the TOEFL is an artificial format—nobody's going to ask you to give your opinion on the best tourist destination in 30 seconds or less in real life!—but by creating strategies, you'll be able to answer the prompts naturally.