As you probably know, there are many differences between written and spoken English. Written English tends to use longer words and bigger vocabulary. Spoken English is less formal, with more idioms. There are also some clear differences in structure. Sentences are shorter in spoken English. There are fewer formal paragraphs in speech. Certainly, the structure of academic writing doesn't usually apply to speech at all. English speech doesn't often involve an introduction, body, conclusion, paragraph transitions, or other common structures of academic essays.
Still, there is one kind of spoken English that is structured a lot like an academic essay. When they don't include student participation, spoken academic lectures are structured a lot like writing. These kinds of "teacher only" lectures are common in American universities. They're also common on the TOEFL. You will hear at least one lecture like this in the Listening Section, and two more in TOEFL Speaking. On the TOEFL, these lectures are structured much like five paragraph essays. They have an introduction, a body, a conclusion, and distinct paragraphs with topic sentences and supporting details. Learning to recognize these features in TOEFL lectures can really help your listening comprehension. It also boosts your note-taking skills. When you understand a lecture's structure, it becomes a lot easier to identify and note the most important ideas.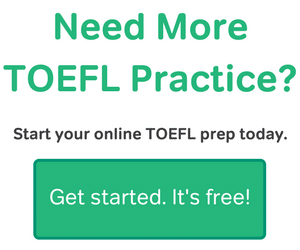 Practice Activity:
Let's look at an example from the ETS TOEFL Quick Prep website. Listen to this track, a TOEFL Listening lecture on history. As you listen, read the transcript of the lecture on pages 35 and 36 of this document. The transcript is basically an 8-paragraph academic essay. (With some spoken English features like informal language and verbal pauses.) In the transcript, find the following things:
The introduction
The conclusion
The body (the supporting information between the introduction and conclusion)
The main ideas of the paragraphs
The supporting details of the main ideas.
Recognizing these features can help you answer the TOEFL Listening questions for this lecture (found on pages 14 and 15 here) correctly.
Repeat this activity on your own with other listening tracks from TOEFL Quick Prep and other official TOEFL materials. You can also use short transcribed lectures such as these TED Talks. As you practice, try to look at the transcripts less and less. Eventually, you should be able to note the features of a lecture without reading the transcript at all. Then you'll be ready to apply the skill to the TOEFL itself, taking great notes and answering questions with confidence. (And for extra help with TOEFL Listening, be sure to check out Magoosh's Complete Guide to TOEFL Listening!)
Most Popular Resources