A Tarefa Integrada da Seção de Escrita consiste na leitura de um texto com aproximadamente 250 a 300 palavras. Em seguida, você deverá escutar um discurso com 2 a 2:30 minutos de duração. Este áudio desafiará ou discordará das ideias presentes no texto lido. Como esta tarefa é muito específica desse teste, é difícil encontrar exercícios autênticos para praticar a redação integrada em outros lugares além dos materiais oficiais do TOEFL.

Elaborei e gravei uma tarefa que é muito parecida em duração, conteúdo e formato com a verdadeira Tarefa Integrada de Escrita do TOEFL. Leia o texto, escute o discurso e siga as instruções para ter uma experiência (quase) autêntica de prática de redação do TOEFL. Para a preparação, pode ser útil ler alguns conselhos da Kate, do Magoosh, sobre esta tarefa. A Rubrica Oficial da Redação Integrada do TOEFL também pode ajudar.
Prática da Tarefa de Escrita do TOEFL
Instruções: Reserve 3 minutos para ler o texto.
The "comics medium" includes newspaper comic strips such as Dennis the Menace and comic books such as Spider-Man. Scholars around the world agree that comics are a uniquely American art form. (A "comics medium", ou mídia em quadrinhos, inclui tirinhas impressas nos jornais, como Dennis, o Pimentinha, e gibis, como Homem-Aranha. Intelectuais de todo do mundo concordam que as histórias em quadrinhos são uma forma de arte primordialmente norte-americana.)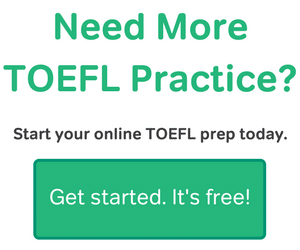 The first commercially successful comic strip was Hogan's Alley, a comic strip from the 1890s. Hogan's Alley featured the Yellow Kid, the world's first popular cartoon character. This strip and its character marked the beginning of comics and was American in every respect. Set in a low-income neighborhood in New York City, Hogan's Alley dealt with the lives of ordinary Americans. It was written and drawn by American cartoonist R.F. Outcault. Joseph Pulitzer and William Randolph Hearst, two famous and influential American publishers, printed the comic strip in their newspapers. (A primeira tirinha comercialmente bem sucedida chamava-se Hogan's Alley, e foi criada na década de 1890. A história apresentava o Garoto Amarelo, o primeiro personagem popular do mundo dos quadrinhos. Esta tirinha e seu personagem eram norte-americanos em todos os aspectos, e marcaram o início das histórias em quadrinhos. Ambientada em um bairro de classe baixa de Nova Iorque, Hogan Alley falava das vidas de cidadãos comuns. As histórias eram escritas e desenhadas pelo cartunista norte-americano R.F. Outcault. Joseph Pulitzer e William Randolph Hearst, dois famosos e influentes editores dos EUA, incluíram a tirinha em seus jornais.)

The first popular comic book in the world was also American. Action Comics, a series that is still in print today, was initially released in 1938. It featured Superman, the world's first superhero. Like Hogan's Alley, Superman was American-created. (A primeira revista em quadrinhos do mundo também era norte-americana. Action Comics é uma série impressa até hoje, mas foi lançada inicialmente em 1938. Aqui surgiu o Super-Homem, o primeiro super-herói do mundo. Assim como o Hogan's Alley, o Super-Homem foi criado pelos norte-americanos.)

Americans invented comic strips, and Americans have exported their unique art form to the rest of the world. Japanese comics, called manga, were inspired by the comics that Americans brought to Japan after World War II. Popular European comics series such as Smurfs and Asterix are influenced by Disney comic books. Today, American-created Disney comic characters are more popular in Europe than ever. (Os EUA inventaram as tirinhas e também exportaram sua arte original para o restante do mundo. Os quadrinhos japoneses, chamados mangá, foram inspirados pelos gibis que os norte-americanos levaram ao Japão após a Segunda Guerra Mundial. Séries populares de quadrinhos europeus, como Smurfs e Asterix, são influenciadas por gibis da Disney. Hoje, os personagens criados pela Disney são mais populares na Europa do que nunca.)

The comics medium started in America. While it has spread around the world, even comics that aren't created by Americans have an undeniable American influence. This is why so many art and literature scholars recognize the comic strip as a truly American art form. (A mídia em quadrinhos surgiu nos EUA. Embora a arte tenha se disseminado em todo o mundo, mesmo os gibis que não foram criados pelos norte-americanos inegavelmente sofrem sua influência. Por isso que tantos estudiosos da arte e da literatura consideram as tirinhas em quadrinhos uma expressão artística verdadeiramente norte-americana.)

Instruções: Resuma os pontos principais do discurso. Lembre-se de explicar como estes desafiam os pontos específicos do texto lido. Você tem 20 minutos para planejar e escrever sua resposta. Esta será avaliada com base na qualidade da escrita e em sua capacidade de apresentar os pontos do discurso e relacioná-los com o texto lido.
Ouça o discurso aqui:




Após concluir a tarefa de prática, você pode avaliar a qualidade de sua escrita. Compare-a com este exemplo de resposta. Boa sorte!

E se precisar de mais orientações, o Magoosh TOEFL contém seis testes para você praticar, com exemplos de respostas, explicações em vídeo, estratégias e dicas para todas as perguntas do teste de conversação do TOEFL!


Esta publicação está originalmente em inglês no blog Magoosh e foi traduzida por Aline Lacerda de Abreu.
Most Popular Resources