New York University, located in the heart of New York City, is made up of a number of different "schools," all of which look at the TOEFL slightly differently. The good news is that the majority of these schools do not have minimum scores that they require for admission; however, in most cases, successful applicants do score above 100 on the TOEFL iBT. Test scores in all cases should be less than two years old.
Important! Before proceeding further, note that every school at NYU has a different test code, so make sure that you send your scores to the right place. If you send them to the wrong school, NYU will not send them to the correct school for you—so if you're on a deadline (or even if you're not), better double-check!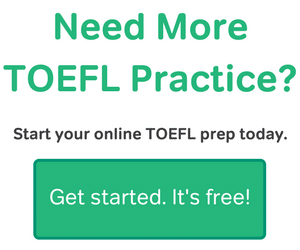 Undergraduate applicants are required to submit test results from the TOEFL, IELTS, or PTE Academic exams. After taking the test, don't forget to keep up with your English when you're admitted. NYU will test international students again when you arrive on campus! And if your English abilities (in speaking and writing) are not deemed to be "of a sufficiently high level to register for academic study," you'll have to register for noncredit English courses on campus — these will cost money, and might extend the time it takes you to finish your degree, so be sure to keep up on your practice. 🙂
For undergraduate admissions only, you don't have to submit English exam scores if your native language is English; if you've been studying at an institution where the only language of instruction has been English, for at least three years, and you submit other standardized test scores; or if you've been educated entirely in English. However, NYU does encourage students wishing to take math- or science-based curriculums to submit test results, even if they are technically exempt from the requirement.
The Graduate School of Arts and Sciences at NYU also requires an English exam for international applicants, and treats it much like the undergraduate admissions department does. Be careful, though—some departments may have set their own standards for TOEFL scores, so make sure you look at the departmental websites or talk to someone in the office before applying.
Stern Business School at NYU doesn't have a minimum TOEFL score, though an English test is required of international applicants; meanwhile, Tisch School of the Arts uses the test scores for internal review in each department, and does not release their minimum score requirements.