While everybody has their own personal preference as to their favorite (or least-favorite) type of speaking and writing prompt, I've found that many students struggle with beginning their answers to independent tasks. Although speaking is a different skill than writing, test-takers can waste a good amount of time struggling to begin both speaking and writing responses when asked to give their own opinion on a topic. Whether it's fear of making a mistake, confusion about the topic, or text anxiety, building skills that give you more control over your TOEFL performance on test day is imperative.
Although it would be impossible to predict the exact topics you'll receive on your actual exam (and you wouldn't want to go in with a memorized answer, anyway–they're too easy for graders to spot), that doesn't mean that you can't prepare for that moment when the timer begins to count down and you speak or write your first few words. After all, one great thing about the TOEFL is that it's a standardized test. All of the exams have to be similar so that every student has an equal opportunity to perform well. This is great news for us, because it means that the independent tasks will be similar enough that we can prepare phrases to help get us off to a good start.
Because you have such a short time to speak and write, the graders don't expect perfection: They're just looking for a strong spontaneous response or first draft. This is more good news! It means that you don't have to prepare an elaborate introduction, full of quotes from Balzac or Adam Smith. Instead, just get your thesis out there. This should be your opinion, if the task has asked for an opinion, or your main idea, if the task has asked for a more general description. For both independent speaking tasks and the independent writing tasks, the same introductory phrases work well.
There are lots of phrases that will work here, but let's play around with just a few to see how these can work in your favor. Many of them are simple, but just coming to the test with two or three on the tip of your tongue can be a big help. Let's take a look:
In general . . .
As a rule . . .
Most of the time . . .
Many people think . . .
In my opinion . . .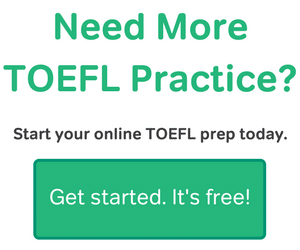 Simple phrases, right? Most of you will have learned these expressions, or something like them, in your first English classes. Now, however, let's apply them to the test. Let's say that you have two independent speaking prompts:
What is your favorite place to go in your hometown?
Some students prefer to study alone, while others prefer to work in groups. Which do you prefer, and why?
Now, let's add one independent writing prompt to the mix:
Is technological progress always a good thing?
Three very different topics, right? Well, you can use the same phrases to begin each response, and they all work.
In general, when I'm at home in London, I like to go to the Natural History Museum.
In general, I prefer to work in groups, because it's inspiring to hear other people's ideas.
In general, technological progress is a good thing, although there are exceptions to the rule. Thus, it is impossible to state that progress is always good.
This can work for any of the introductory phrases above. Let's try out another one.
Many people think that you need a lot of money to enjoy London, but when I'm back in my hometown, my favorite thing to do is to visit the parks, which are free.
Many people think that working alone is a more efficient way to study. However, I disagree. Distributing work among group members makes it easier to accomplish tasks.
Many people think that technological progress is always good. The lack of face-to-face social engagement that technological progress has created, though, is a negative consequence of this process. For this, among other reasons, I believe that progress has mixed results.
Although I'm using the same phrase for all three tasks here to make a point, on test day, remember to mix it up! Don't use the same introductory phrase for each response. You want to provide a variety of different phrases in your responses, so coming prepared with a handful of introductory phrases in your toolkit will give you that push you need to get off to a great start.
Most Popular Resources