Finding good listening practice can be tricky since there isn't much authentic TOEFL listening practice material out there. Free, non-TOEFL ESL listening tends to be too easy and non-academic, and authentic materials are often much faster and more difficult to understand than the TOEFL. This is why it's important to buy a good TOEFL prep book that includes CDs. The resources below are ones I've found that, for the most part, are based on native-level texts, but that give enough support for an intermediate student to get something out of them.
TED talks
I've written about TED.com before, but it's such a good resource that I don't mind repeating myself. TED has thousands of presentations, mostly in English, from speakers all over the world, on every topic imaginable. Some of them are just three minutes long, whereas others last more than an hour. Each talk comes with a transcript you can use for pre-reading, and most of them have subtitles in English and a wide variety of foreign languages. The downside of TED is that its speakers tend to be very fast, as they have a lot of information to cover in limited time. But the variety of topics, entertainment value of the presentations themselves, and the written support you'll get make TED a very worthwhile resource.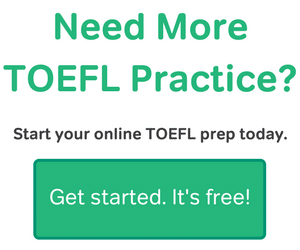 Podcasts
If you want to study at an English-speaking university, you will have to listen to lectures in English, of course—what better way to practice for that than to listen to real English lectures from actual professors? Many universities offer podcasts of real lectures. Not all of them are perfect, of course but there is a lot of great TOEFL practice there.
Documentaries
So you like watching TV and movies in English? That may be good English practice in general (although very difficult), but it's not always appropriate for the TOEFL. But documentaries are great practice. I highly recommend BBC's Planet Earth, for one. The science that it discusses is very, very similar to what you would hear in TOEFL lectures about natural sciences, the material is extremely interesting, and the videos are absolutely beautiful. But don't stop there; almost any documentary is a good idea.
Breaking News English
Breaking News English publishes several news stories a week, complete with activities, at a variety of English levels and with a selection of recordings. Because all the articles are taken from real news organizations like the BBC and CNN, you can search for the article headlines and find a wealth of authentic materials to read and watch. But my favorite thing about Breaking News English is its selection of listening samples. Articles are published at six different levels; usually the same article will be available in at least three levels. Plus, each level comes with five speeds to suit your listening level. Sometimes, you can even choose what gender and accent you'd prefer to listen to.
How to enhance your listening practice
As you listen, take notes. Listen to each sample several times (at least twice) so you can add in all the important information. Then, give yourself a few minutes after listening to a new recording to make as detailed a summary of it as you can. Alternate between speaking and writing your summary, so you can practice the other sections of the test as well as your listening. Never just listen passively: always be prepared to summarize what you've heard!
PS. Don't forgot how important it is to take a full-length TOEFL before your exam! Here's where to find TOEFL practice tests and some extra TOEFL practice questions.